The Rediscovered Psychoanalytic Work of Herbert Silberer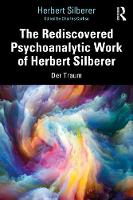 Book Details
Publisher : Routledge
Published : July 2020
Cover : Paperback
Pages : 100
Category :
Jung and Analytical Psychology
Catalogue No : 95185
ISBN 13 : 9780367281137
ISBN 10 : 9780367281
Charles Corliss presents, for the first time, the complete English translation of Herbert Silberer's work on dreams, Der Traum: Einfuhrung in die Traumpsychologie. Based on lectures delivered at the majestic Urania Star Observatory in Vienna in 1918, Der Traum was a wide-ranging, accessible introduction to the meaning of dreams, with examples from Silberer's practice providing a rich source of illustration. One hundred years after the work was first published in Silberer's native German, Corliss rescues his voice from obscurity and adds key supplementary information to place the work in context.
The book begins with an introduction which surveys the range of Silberer's contributions to psychoanalysis and sets out what is known of his life, before presenting the full original text. Presented in eight parts, each with preliminary remarks by Corliss, the book covers several topics including differing viewpoints on dreams, Silberer's concept of the hypnagogic phenomenon, experimental dreams, and aspects of his own theory. Der Traum ends with a philosophical exploration of how dream content relates to the core moral fiber of our being, with the work as a whole reflecting Silberer's optimistic, depth-oriented, and at times, almost mystical stance. Corliss concludes the book with a reflection on the rich, teleologically optimistic, and refreshingly panoramic value of Der Traum.
This unique book will be of interest to analytical psychologists and Jungian psychotherapists in practice and training, as well as to academics and students of Jungian studies and the history of psychoanalysis, psychoanalytic studies, theology, philosophy, and the history of psychology.
Reviews and Endorsements
'In this engaging and ground-breaking book, Dr Corliss rescues and revives an important but unfortunately marginalized thinker whose voice has been neglected in the evolution of psychoanalytic thought. Dr Corliss' scholarship restores Herbert Silberer's prescient work on dreams, enriching our understanding of psychoanalysis and linking it to its contemporary developments. This passionate, enlightening work will be of value to anyone interested in the history of psychoanalysis and in the science and mysteries of dream life.' - Stanton Marlan, President of the Pittsburgh Society of Jungian Analysts, USA.
About the Author(s)
Herbert Silberer was an early member of Freud's Vienna Group, whose unique body of work was dismissed after his expulsion from the psychoanalytic community. Silberer died in 1923, at the age of 40.
Charles Corliss is a Board Certified, NYS licensed Clinical Psychologist who serves as Executive Director and Supervisory Clinical Psychologist of Inwood Community Services, Inc. and Clinical Psychologist in private practice, New York, USA. He is also the author of A Primer of the Psychoanalytic Work of Herbert Silberer: What Silberer Said.
You may also like