The Really Good Fun Cartoon Book of NLP: A Simple and Graphic(al) Explanation of the Life Toolbox That is NLP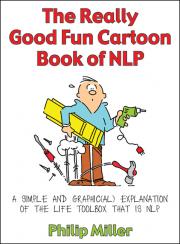 The concepts and ideas of NLP can be of great benefit to people in all areas of their lives; be it at work, with family and friends or in other activities. The problem has been how to get this across and explain those ideas and show how they can be easily learnt and applied. Traditionally the world of NLP training and literature has been full of technical sounding expressions, just think of the name neuro linguistic programming. It takes a lot of persistence and effort to get through all this to access the real benefits that NLP can bring to people.
The Really Good Fun Cartoon Book of NLP seeks to cut through all this by using simple (non jargon) language and amusing illustrations to get across the principles of NLP and how people can think about using them in their everyday lives. Knowing when and how to dip into the NLP life skills toolbox is really useful as is the idea that its all just a learning experience. This book will help you get even more from life - to become an even more interesting and interested person, but only if thats what you want.
Reviews and Endorsements
About the Author:
Philip Miller has spent the last 38 years in business. He is Master Practitioner and Certified Trainer of NLP, specialising in running training courses on the use of NLP in business. He is the Visiting Fellow of Small Business Development at Cranfield University School of Management and works as a tutor on the Business Growth Programme (BCP).
You may also like