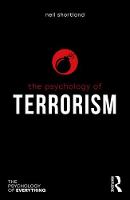 Book Details
Publisher : Routledge
Published : October 2020
Cover : Paperback
Pages : 118
Category :
Popular Psychology
Catalogue No : 95296
ISBN 13 : 9780367353315
ISBN 10 : 9780367353
What is terrorism? Can anyone be radicalized? How can we respond to terrorist acts?
The Psychology of Terrorism<,/i> seeks to explain why some acts of violence are considered terrorism and others are not, and why some individuals may be more susceptible to engaging in radical terrorist behavior. Debunking myths and lazy stereotypes, the book delves into some of the most shocking atrocities of our times to discuss the complex and varied psychological characteristics of individual terrorists, organized groups, and their acts.
Whilw there is no simple solution, The Psychology of Terrorism shows us that a growing reverse radicalization movement and modern interventionist techniques can give us hope for the future.
Contents:
1. What is terrorism?
2. Who is a terrorist?
3. Why do people become terrorists?
4. Can people stop being terrorists?
5. Can we stop terrorism?
6. Conclusion
About the Author(s)
Neil Shortland is Director of the Center for Terrorism and Security Studies, University of Massachusetts Lowell, USA. His research focuses on the psychological aspects of domestic and international security.
You may also like