The Psychoanalytic Model of the Mind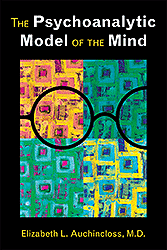 Book Details
Publisher : American Psychiatric Publishing
Published : 2015
Cover : Paperback
Pages : 290
Category :
Psychoanalysis
Catalogue No : 37306
ISBN 13 : 9781585624713
ISBN 10 : 1585624713
Also by Elizabeth L. Auchincloss
Despite the widespread influence of psychoanalysis in the field of mental health, until now no single book has been published that explains the psychoanalytic model of the mind to the many students and practitioners who want to understand it. The Psychoanalytic Model of the Mind represents an important breakthrough: in simple language, it presents complicated ideas and concepts in an accessible manner, demystifies psychoanalysis, debunks some of the myths that have plagued it, and defuses the controversies that have too long attended it.
The author effectively demonstrates that the psychoanalytic model of the mind is consistent with a brain-based approach. Even in patients whose mental illness has a predominantly biological basis, psychological factors contribute to the onset, expression, and course of the illness. For this reason, treatments that focus exclusively on symptoms are not effective in sustaining change. The psychoanalytic model provides clinicians with the framework to understand each patient as a unique psychological being.
The book is rich in descriptive detail yet pragmatic in its approach, offering many features and benefits:
- In addition to providing the theoretical scaffolding for psychodynamic psychotherapy, the book emphasizes the critical importance of forging a strong treatment alliance, which requires understanding the transference and countertransference reactions that either disrupt or strengthen the clinician-patient bond.
- The book is respectful of Freud without being reverential; it considers his contribution as founder of psychoanalysis in the context of the historical and conceptual evolution of the field.
- The final section is devoted to learning to use the psychoanalytic model and exploring how it can be integrated with existing models of the mind.
- In addition to being a valuable reference for mental health clinicians, the text can serve as a resource for undergraduate and graduate students of philosophy, neuroscience, psychology, literature, and all academic disciplines outside of the mental health professions who may want to learn more about what psychoanalysts have to say about the mind.
- Important features include an extensive glossary of terms, a series of illustrative tables, and appendixes addressing libido theory and defenses.
Drawing upon a broad range of sources to make her case, the author persuasively argues that the basic tenets of the psychoanalytic model of the mind are supported by empirical evidence as well as clinical efficacy. The Psychoanalytic Model of the Mind is a fascinating exploration of this complex model of mental functioning, and both clinicians and students of the mind will find it comprehensive and riveting.
You may also like