The Psychoanalytic Encounter and the Misuse of Theory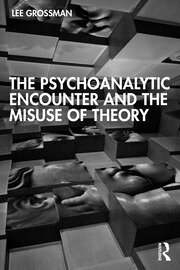 Book Details
Publisher : Routledge
Published : January 2023
Cover : Paperback
Pages : 192
Category :
Psychoanalysis
Catalogue No : 97023
ISBN 13 : 9781032419244
ISBN 10 : 9781032419
In clear, accessible language, Lee Grossman addresses the disjuncture between analytic literature and clinical work in an effort to render analytic theorizing more representative of clinical experience.
Pointing out the ways in which analytic literature can fail to capture the intensity of feeling and the stumbling, lurching, working in the dark that captures much of clinical engagement, Grossman shows how incomprehensibility is sometimes mistaken for wisdom. As an alternative, Grossman shows how attention to what he calls the syntax of thought can naturally define three different broad categories of life experience: the omnipotence of the neurotic, the wishful, short-sighted thinking of the perverse, and the concrete, disordered thinking of the psychotic. Using rich clinical material, interspersed with detailed exposition and artful satire, Grossman departs from conventional theoretical writing to provide new ways of conceptualising analytic therapy.
Addressing analytic therapy as an encounter between two people, both governed by forces about which they know very little, this book provides essential insights for psychoanalysts, psychotherapists and other clinical practitioners both in training and in practice.
Reviews and Endorsements
'Lee Grossman's superb book speaks as powerfully to the newly-minted as to the seasoned clinician. He starts from the premise that we all encounter, as a matter of course, confusion, risk, and emotional storms in relation to our patients. Chapter by chapter, his humanity, clarity, and wit shine light on our most difficult therapeutic struggles and clear away mystifications that cloud our thinking. The Psychoanalytic Encounter and the Misuse of Theory is the most practical and helpful guide to doing clinical work that I've read in a very long time; it's also damn funny.' - Daphne de Marneffe, author of

'In this unique book, Lee Grossman incisively captures the immediacy of clinical engagement with a freshness that is solidly based on but transcends accepted theories, exposing the misuse of theory while extending and reviving theory with his open-minded curiosity. From start to end he questions, consistently returning to the uncertainties of actual experience. Indeed, he does so in a style both enlightening and lightening, with a rare wit that at times is even laugh aloud. Yes, this seriously thoughtful work is absolutely valuable reading. It is also fun to read.' - Warren S. Poland, author of Intimacy and Separateness in Psychoanalysis

'In a book that so thoughtfully and incisively tackles the fundamental concerns of clinical psychoanalysis––the "syntax of neurotic thought," the "perverse attitude towards reality," sado-masochism and the object relation, psychotic functioning and "self-cure," the complexities and ironies of the analyst's activity––what never falters, not for one sentence, is Lee Grossman's writerly voice. Nimble, witty, wry, and welcoming, Grossman performs the analytic values that underwrite his brilliant book until they become one with it. What a gift this gifted analyst and writer has given us!' - Mitchell Wilson, editor, The Journal of the American Psychoanalytic Association
About the Author(s)
Lee Grossman is a training and supervising analyst at the San Francisco Center for Psychoanalysis and a member of the editorial board of the Journal of the American Psychoanalytic Association. He served on the editorial board of the Psychoanalytic Quarterly for 15 years. He lives in Oakland with his analyst wife, Jan Baeuerlen, and a goofy English bulldog named Frank.
You may also like