The Professional Counselor: Challenges and Opportunities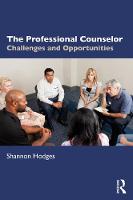 Book Details
Publisher : Routledge
Published : July 2020
Cover : Paperback
Category :
Counselling
Catalogue No : 95135
ISBN 13 : 9780367002213
ISBN 10 : 9780367002
The Professional Counselor: Challenges and Opportunities weaves a rich narrative for the inner counselor of self-discovery, mindfulness and self-care, emotional intelligence, counselor identity, ethical issues, career maturation, and future trends in counseling.
Readers will be confronted with professional decision points regarding enrollment in the counselor profession, ethical issues, client treatment, accreditation, and occupational outlook. The text also posits counseling as an emerging global profession and addresses the ways technology will transform professional practice. Each chapter concludes with a Lessons Learned section in which the author uses his personal and professional experiences to address relevant professional issues in mindfulness-based treatment.
The Professional Counselor is an excellent resource and guide for students in graduate counseling programs, those considering the field, and counselors new to the profession.
Reviews and Endorsements
"This text provides the foundation from which counseling students can begin to build a professional identity and explore the many avenues that a career in counseling can provide. Additionally, it advances the need for self-care and reflection as a necessity for all professional counselors." - Perry C. Francis, EdD, NCC, ACS, LPC, professor and counseling training clinic coordinator at Eastern Michigan University, USA.

"This text is an outstanding blend of personal and professional considerations for today's counselors. It is written in an honest, engaging style that with personal reflections as well as timely professional themes. A must read for beginning counselors in particular!" - Allison Crowe, East Carolina University, USA.

"In this book, Shannon Hodges astutely identifies the challenges that are inherent in professional counseling; equally important, he lays out the rich opportunities that are an exciting part of our contemporary professional landscape. He adroitly outlines the fundamental nuts and bolts of professional counseling as both a science and an art, but he further emphasizes the crucial role of the process of self-discovery in this professional journey. The message of this book is essential in the developmental preparation of professional counseling students. I wish that I had had this textbook, nearly 46 years ago, when I embarked on the becoming and being dimensions of my preservice counselor education training!" - Lisa Lopez Levers, PhD, LPCC-S, LPC, CRC, NCC, professor of counselor education & human development, Duquesne University, USA.
About the Author(s)
Shannon Hodges, PhD, is professor of clinical mental health counseling at Niagara University, USA.


You may also like