The Myth of Normal: Trauma, Illness & Healing in a Toxic Culture
Book Details
Publisher : Ebury Publishing
Published : September 2022
Cover : Paperback
Pages : 352
Category :
Forthcoming
Category 2 :
Popular Psychology
Catalogue No : 96334
ISBN 13 : 9781785042720
ISBN 10 : 1785042726
Also by Gabor Mate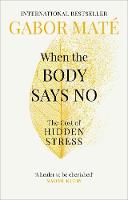 Paperback
£14.99
This item is not yet published. You may pre-order a copy and we will send it out when it becomes available.
Free UK Delivery over £25
This title has been temporarily removed from the website. Please contact Karnac Books for more details
We tend to believe that normality equals health. Yet what is the norm in the Western world? Mental illness is on an unstoppable rise. Some 45% of Europeans suffer high blood pressure, and nearly 70% of Americans take at least one prescription drug. Illness and trauma are defining how we live.
In his new masterpiece, renowned physician, addiction expert and author Gabor Mate dissects the underlying causes of this malaise - physical and emotional, and connects the dots between our personal suffering and the pressures of modern-day living. Over four decades of clinical experience, Dr Mate has found that the common definition of 'normal' is false: virtually all disease is actually a natural reflection of life in an abnormal culture, as we grow further and further apart from our true selves. But he also shows us the pathway to reconnection and healing.
Filled with stories of people in the grip of illness or in the triumphant wake of recovery, this life-affirming book shows how true health is possible - if we are willing to embrace authenticity above social expectations. The Myth of Normal is Gabor Mate's most ambitious, compassionate and urgent book yet.
Reviews and Endorsements
Gabor Mate is one of the most interesting and original voices now out there addressing the crisis of mental health in our culture. His ground-breaking work on addiction gave me a whole new way to think about the subject - Michael Pollan, bestselling author of How to Change Your Mind

Gabor Mate's connections - between the intensely personal and the global, the spiritual and the medical, the psychological and the political - are bold, wise and deeply moral. He is a healer to be cherished - Naomi Klein, author of No Logo and The Shock Doctrine
About the Author(s)
Gabor Mate is a retired physician, bestselling author and renowned speaker, highly sought after for his expertise on addiction, trauma, stress and childhood development. He has written four bestselling books published in nearly thirty languages, including the award-winning In the Realm of Hungry Ghosts: Close Encounters with Addiction. He has been awarded the Order of Canada (his country's equivalent of the MBE) and the Civic Merit Award from his hometown, Vancouver, for his ground-breaking medical work and writing.
You may also like