The Mystical Exodus in Jungian Perspective: Transforming Trauma and the Wellsprings of Renewal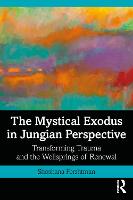 The Mystical Exodus in Jungian Perspective explores the soul loss that results from personal, collective, and transgenerational trauma and the healing that unfolds through reconnection with the sacred. Personal narratives of disconnection from and reconnection to Jewish collective memory are illuminated by millennia of Jewish mystical wisdom, contemporary Jewish Renewal and feminist theology, and Jungian and trauma theory.
The archetypal resonance of the Exodus story guides our exploration. Understanding exile as disconnection from the Divine Self, we follow Moses, keeper of the spiritual fire, and Serach bat Asher, preserver of ancestral memory. We encounter the depths with Joseph, touch collective grief with Lilith, experience the Red Sea crossing and Miriam's well as psychological rebirth and Sinai as the repatterning of traumatized consciousness.
Tracing the reawakening of the qualities of eros and relatedness on the journey out of exile, the book demonstrates how restoring and deepening relationship with the Sacred Feminine helps us to transform collective trauma.
This text will be key reading for scholars of Jewish studies, Jungian and post-Jungian studies, feminist spirituality, trauma studies, Jungian analysts and psychotherapists, and those interested in healing from personal and collective trauma.
Reviews and Endorsements
"The most compelling thing about this beautiful book is that the author anchors it in her own lost and re-found story of exile within the Jewish community. Her awakening and return begins at a tearfully redemptive moment when her heart opens in a temple sanctuary, and later as she slowly realizes that the broken shards of her own painful personal story, were carried unconsciously throughout her exile inside a much larger, ancient Jewish story-the sacred Covenant between God and man-in psychological language the archetypal covenant between ego and Self. Sometimes trauma is the only thing that breaks us open to this larger reality that sustains us and leads us home to ourselves-and to others who are courageous enough to share their own heartbreak. This book carries a profound message for our time of spiritual and psychological 'exile.' It shows us a way home. I cannot recommend it highly enough." - Donald E. Kalsched, PhD, author of Trauma and the Soul: A Psycho-spiritual Approach to Human Development and its Interruption.

"The Mystical Exodus in Jungian Perspective is a feast! With lucid and engaging prose that at times reads like poetry, Fershtman explores how the contemporary movement called Jewish Renewal revitalizes Jewish ancestral wisdom, elevating the mystical dimension and the Divine Feminine in Judaism. Fershtman weaves moving personal stories of engagement with Jewish Renewal teachings and practices seen through the archetypal lens of the Exodus story. Here we discover layers of insight-brilliant midrashic and mystical wisdom that enabled Jews to overcome millennia of collective trauma, and offers us a pathway to reconnect with the sacred in our own time." - Rabbi Marcia Prager, Director and Dean of Ordination Programs for ALEPH: Alliance for Jewish Renewal, author of The Path of Blessing.

"This is a book of a lifetime-both for the author and the reader. Shoshana Fershtman has documented her own and others' personal spiritual journeys of transformation in the context of the Jewish Renewal movement that taps into the cultural and archetypal dimensions of the vitality of spirit and soul-specifically Jewish but in some ways about the wellspring of renewal potentially available in any spiritual awakening." - Thomas Singer, Jungian Analyst, author of The Cultural Complex and Cultural Complexes and the Soul of America.

"Dr. Fershtman has gifted us with an extraordinary book that is both vast in scope and deep in personal passion. By telling the stories of our personal passages from dislocation and trauma to belonging and wholeness, we can know ourselves as unique and precious expressions of the significant social and religious movements that are awakening our world. The Mystical Exodus in Jungian Perspective is a guide for consciously stepping onto the path of liberation by shining a light on the mythic and mystical dimensions of our inheritance. This book gave me a profound sense of pride, pleasure, and comfort in understanding the Jewish Renewal Movement as a vital force of healing in a world that yearns for wholeness." - Rabbi Shefa Gold, author of Torah Journeys: The Inner Path to the Promised Land.

"There is a saying in Jewish intellectual circles that the Talmudists become Freudians and the mystics become Jungians. Shoshana Fershtman, in this highly creative work, is able to combine the best of both these worlds, the mystical and the intellectual-an outstanding achievement! Courageously sharing experiences from her own and others' lives, and drawing on the inspiration of the Jewish mystical tradition as well as aspects of ... Jungian approaches to life, Dr. Fershtman has crafted a book that cries out to be read by us all." - Aryeh Maidenbaum, PhD, Director, NY Center for Jungian Studies, author of Jung and the Shadow of Anti-Semitism and Lingering Shadows: Jungians, Freudians, and Anti-Semitism

"A beautifully written, authoritative guide to the history, evolution, and contemporary renaissance of the Jewish mystical tradition that integrates Biblical myth and personal narrative with insights from Jungian psychology. Fershtman's deep compassion and wisdom shine through the stories she tells that demonstrate how spiritual seekers may find healing and transformation by embracing their ancestral roots." - Estelle Frankel, MFT, author of Sacred Therapy and The Wisdom of Not Knowing


"An important book with a potent message about the contagious nature of trauma and how it filters unimpeded through the generations. The courageous transparency with which the author interpolates within this exploration her own personal story will not only touch the hearts of the traumatized but will also deeply inform anyone engaged in the healing of trauma whether professionally or academically. The book's creative weave of relevant studies and moving anecdotes will undoubtedly earn its place amid the annals of literature on the science and treatment of trauma, in particular in regard to children of Holocaust survivors. No less valuable, however, is the book's vivid demonstration of the power of mythology in enriching our life journeys." - Rabbi Gershon Winkler, author of Magic of the Ordinary: Recovering the Shamanic in Judaism.

"Dr. Fershtman exquisitely examines the history, mythology, and evolution of Judaism analyzing disconnection, particularly of Jews, from the sacred imagination of Judaism. Utilizing the archetypal theme of Exodus-a journey from exile to redemption-she illuminates Judaism's resurgence in the psyche. Writing reverently on the influence of trauma in Judaism, she shares poignant, liberating human stories of coming out from exile and into relationship with Jewish consciousness-journeys which reveal our spiritual essence." - Helen Marlo, PhD, Professor, Notre Dame de Namur University, Psychologist, author of The Spiritual Psyche: Intersubjectivity, Mysticism and Psychoanalysis in Clinical Practice.
About the Author(s)
Shoshana Fershtman, JD, PhD, is a Jungian analyst and psychologist in Sonoma County, California, USA. She is a member analyst and teaches at the C.G. Jung Institute of San Francisco, and served as core faculty at the Sonoma State University Depth Psychology program. She has studied Jewish mysticism with teachers from the Jewish Renewal and Reconstructing Judaism movements, and has taught extensively on Jewish mysticism, transgenerational trauma, and the Sacred Feminine. Her work as an attorney focused on advocacy for environmental and social justice and indigenous rights.
You may also like