The Making of DSM-III: A Diagnostic Manual's Conquest of American Psychiatry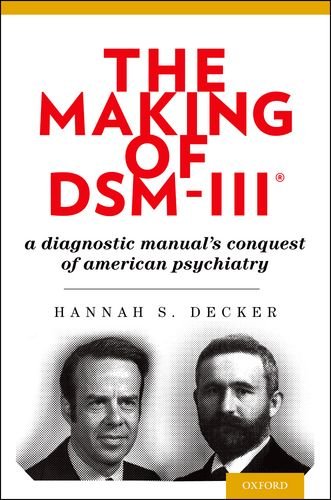 Book Details
Publisher : Oxford University Press
Published : 2013
Cover : Paperback
Pages : 432
Category :
Clinical Psychology
Catalogue No : 34762
ISBN 13 : 9780195382235
ISBN 10 : 0195382234
In 1973, the American Psychiatric Association decided to publish a revised edition of their Diagnostic and Statistical Manual (DSM). There was great hope that a new manual would display psychiatry as a scientific field and aid in combating the attacks of an aggressive anti-psychiatry movement that had persisted for more than a decade.
The Making of DSM-III is a book about the manual that resulted in 1980-DSM-III - a far-reaching revisionist work that created a revolution in American psychiatry. Its development precipitated a historic clash between the DSM-III Task Force - a group of descriptive, empirically oriented psychiatrists and psychologists - and the psychoanalysts the Task Force was determined to dethrone from their dominance in American psychiatry. DSM-III also inaugurated an era in which it and the diagnostic manuals that followed played enormous roles in the daily lives of persons and organizations all over the world, for the DSMs have been translated into many languages.
The radical revision process was led by the psychiatrist Robert L. Spitzer, a many-talented man of great determination, energy, and tactical skills, arguably the most influential psychiatrist of the second half of the 20th Century. Spitzer created as major a change in descriptive psychiatry and classification as had the renowned German psychiatrist Emil Kraepelin, almost a century earlier. Kraepelin had been the epochal delineator of dementia praecox from manic-depressive illness, the forerunners of modern schizophrenia and bipolar disorder.
In her book, Hannah Decker portrays the many internal and external battles that roiled the creation of DSM-III and analyzes both its positive achievements and significant drawbacks. She also astutely explores the deleterious effects of the violent swings in scientific orientation that have dominated psychiatry over the past 200 years and are still alive today. Decker has written a revealing and exciting book that is based on archival sources never before used as well as extensive interviews with the psychiatrists and psychologists who have brought into being the psychiatry we know today.
You may also like