The Long Week-End 1897-1919: Part of a Life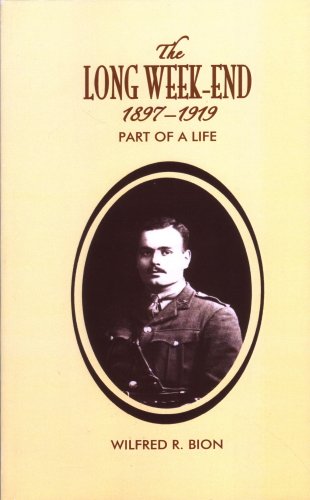 Also by Wilfred R. Bion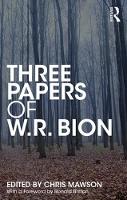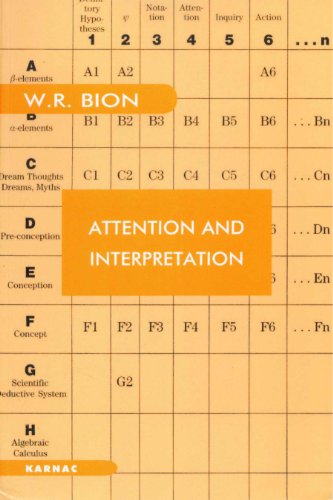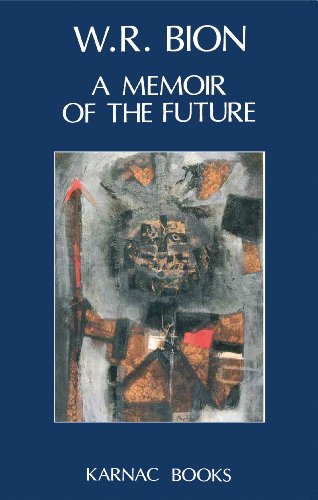 The Long Week-End is a reminiscence of the first twenty-one years of Wilfred Bion's life: eight years of childhood in India, ten years at public school in England, and three years in the army.
INDIA:
'Intense light; intense black; nothing between; no twighlight. Harsh sun and silence; black night and violent noise. Frogs croaking, birds hammering tin boxes, stroking bells, shrieking, yelling, raring, coughing, bawling, mocking.'... I loved India. The blazing, intolerable sun - how wonderful it was! The mid-day silence, the great trees with leaves hanging motionless in the breathless air...'
SCHOOL:
'...alone in the playground of the Preparatory School in England where I kissed my mother a dry-eyed goodbye, I could see above the hedge which separated me from her and the road, which was the boundary of the wide world itself, her hat go bobbing up and down like some curiously wrought millinery cake carried on the wave of green hedge. And then it was gone.'

'I learned to treasure that blessed hour when I could get into bed, pull the bed clothes over my head and weep. As my powers of deception grew, I learned to weep silently till at last I became more like my mother who was not laughing, and was not crying.'

'In those pre-Freudian days sex, nurtured and cosseted and titillated by the segregation of boys in public schools, was a problem... My increasing development ran parallel with increasing loathing and hatred of sex and religion and rules - all equally fatuous. It did not occur to me that there might be something wrong with a creator who created sex and did not allow you to exercise it till some unspecified date in the distant future, or that there was something wrong with sex and its rules.'
WAR:
'...I see them still in the watch fires of a thousand sleepless nights, for the soul goes marching on.'

'In the quiet a groan came from the mud in the distance, followed by a cry further off... Like marsh birds, innumerable bitterns mating... Sometimes it stopped for a minute or so and then the chorus broke out again, not so raucous or crude-gentle. Dante's Inferno - but how much better we do these things now.'

'The DSO, the tank itself, were very inadequate protection. Even after Cambrai... I felt (my crew) looked at me as if to say, "What, you? Recommended for a VC?"... I might with equal relevance have been recommended for a Court Martial. It depended on the direction which one took when one ran away.'

'Insignificance to Irrelevance in a few years. "It was the same after the Boer War. It's the same now. Ruddy heroes when you're wanted; so much muck when it's finished. It'll be the same next time as this." '
About the Author(s)
Wilfred R. Bion (1897 -1979) was born in India and first came to England at the age of eight to receive his schooling. During the First World War he served in France as a tank commander and was awarded the DSO and the Legion of Honour. After reading history at Queen's College, Oxford, he studied medicine at University College London, before a growing interest in psychoanalysis led him to undergo training analysis with John Rickman and, later, Melanie Klein. During the 1940s his attention was directed to the study of group processes. Abandoning his work in this field in favor of psychoanalytic practice, he subsequently rose to the position of Director of the London Clinic of Psychoanalysis (1956-62) and President of the British Psychoanalytical Society (1962-65). From 1968 he worked in Los Angeles, returning to England two months before his death in 1979.

A pioneer in group dynamics, he was associated with the 'Tavistock group', the group of pioneering psychologists that founded the Tavistock Institute in 1946 on the basis of their shared wartime experiences. He later wrote the influential Experiences in Groups, an important guide for the group psychotherapy and encounter group movements beginning in the 1960s, and which quickly became a touchstone work for applications of group theory in a wide variety of fields. Bion's training included an analysis with Melanie Klein following World War II. He was a leading member in the Kleinian school while in London, but his theories, which were always based in the phenomena of the analytic encounter, eventually revealed radical departures from both Kleinian and Freudian theory. While Bion is most well known outside of the psychoanalytic community for his work on group dynamics, the psychoanalytic conversation that explores his work is concerned with his theory of thinking and his model of the development of a capacity for thought.
You may also like