The Logic of Sexuation: From Aristotle to Lacan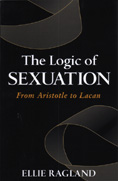 Book Details
Publisher : State University of New York Press
Published : January 2004
Cover : Paperback
Category :
Lacanian Psychoanalysis
Catalogue No : 92951
ISBN 13 : 9780791460788
ISBN 10 : 0791460789
Also by Ellie Ragland

In The Logic of Sexuation, Ellie Ragland offers a detailed account of Jacques Lacan's theories of gender, sexuality, and sexual difference.
Reviews and Endorsements
Exploring Lacan's rereading (via Aristotle) of Freud's major essays on feminine sexuality, Ragland demonstrates that Lacanian theory challenges essentialist notions of gender more effectively than do current debates in gender studies, which are typically enmeshed in an imaginary impasse of one sex versus or interchanged with the other. Although much American feminist thought on Lacan has portrayed him as anti-Woman, Ragland argues that Lacan was, in fact, pro-Woman, as he felt that no advances in analytic cure, or in thinking itself, could evolve except by embracing the feminine logic of the "not all," with its particular modes of jouissance. Ragland also aims to make sense of the terms phallus, castration, sexuation, the object a, jouissance, and so on, in relation to the question of sexual difference. In doing so, she uncovers Lacan's theory that the learning of sexual difference is what makes it possible to think dialectically at all.

"Ragland definitively buries the notion of a biological basis to gender for Lacan. More importantly, she places Lacan's thinking on this subject of sexuality within a logical structure. Whether or not feminist and other critics agree with Ragland's analysis of Lacan's theory of sexuation and its importance for the psychic structuration, this book will be the groundbreaking work in the field. It stands as the first complete elucidation of Lacan's thinking on how gender choices are inscribed in the human psyche." - Evelyn Moore, Kenyon College

"This is the most insightful and illuminating account in English-and quite possibly in any language-of Lacan's thinking on gender and sexuality." - Mark Bracher, coeditor of Lacanian Theory of Discourse: Subject, Structure, and Society

About the Author(s)
Ellie Ragland is Professor of English and Honorary French Professor as well as Frederick A. Middlebush Chair at the University of Missouri where she teaches psychoanalytic theory and world literature. She is author of seven authored and edited books on Lacanian psychoanalysis. She is a practicing psychoanalyst and is a member of the New Lacanian School and the World Association of Psychoanalysis.
You may also like