The Life and Death of Psychoanalysis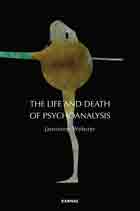 Book Details
Publisher : Routledge
Published : 2011
Cover : Paperback
Pages : 176
Category :
Psychoanalysis
Category 2 :
Lacanian Psychoanalysis
Catalogue No : 30432
ISBN 13 : 9781855758995
ISBN 10 : 1855758997
From its peculiar birth in Freud's self-analysis to its current state of deep crisis, psychoanalysis has always been a practice that questions its own existence. Like the patients that risk themselves in this act of questioning - it is somehow upon this threatened ground that the very life of psychoanalysis depends. Perhaps psychoanalysis must always remain in a precarious, indeed ghostly, position at the limit of life and death?
In this book, Jamieson Webster argues that the life and death of psychoanalysis hinges on the question of desire itself, and attempts to bring this question back to the center of psychoanalytic thought and practice. The problem of desire is pursued through Webster's own relation to psychoanalysis, as she recounts the story of her training through the interpretation of three significant dreams, as well as her encounter with three thinkers for whom the problem of psychoanalysis remains central: Adorno, Lacan, and Badiou. In blurring the line between the personal and the theoretical, this book not only offers a novel interpretation of the philosophical and psychoanalytic meaning of desire, but also explores how one, through the difficult work of transference and reading, can live out the life of desire that tests the limits of what it means to be human.
Reviews and Endorsements
'Jamieson Webster's reflections on psychoanalysis have a crystal clarity. As a writer, she introduces us time and again to the moment that inaugurates desire, including the desire for psychoanalysis. Her paragraphs move in a set of careful sequences that call into question their own possibility, registering at every juncture the seriality and detours of desire itself, a desire registered in psychoanalytic theory and practice, but also, clearly, in the practice of reading itself. Although she deftly and economically recapitulates the major philosophical questions implied by psychoanalytic practice, she also shows us why and how they dawn on us, what captures our attention, and what remains enigmatic. In this way, we are solicited to read with her, to follow a set of paths with no one outcome, and so to move away from dogmatic conceptions of psychoanalysis to an embodied and relational encounter with texts and the persistent and opaque desires they register. With great conceptual lucidity and argumentative edge, Webster brings us close to that passionate knowledge that is psychoanalysis and that defies every systematization.'
- Judith Butler, author of Giving an Account of Oneself and Undoing Gender

'This unique book shows us how psychoanalytic writing can be reinvented. Neither traditional academic discourse nor clinical case, it pursues the question of desire through a perpetual process of unbalancing the boundary we might expect between form and content. Thought-provoking, unnerving, and spunky, it will interest anyone working in the field of psychoanalysis.'
- Darian Leader, author of The New Black: Mourning, Melancholia and Depression
About the Author(s)
Jamieson Webster, PhD, is a psychoanalyst in New York City. She teaches at Eugene Lang College and New York University. Her work focuses on clinical and theoretical psychoanalysis with an interdisciplinary focus on feminine sexuality, philosophy, and aesthetics.
You may also like