The Klein-Winnicott Dialectic: Transformative New Metapsychology and Interactive Clinical Theory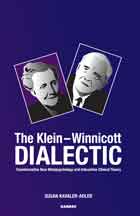 Also by Susan Kavaler-Adler

The Klein–Winnicott Dialectic: Transformative New Metapsychology and Interactive Clinical Theory brings together the theories of Melanie Klein and Donald W. Winnicott, two giants and geniuses of the British school of object relations clinical and developmental theory and psychoanalytic technique. In this book, Dr Kavaler-Adler attempts to integrate the theories of Klein and Winnicott, rather than polarising them, as has been done often in the past. This book takes the best of Klein and Winnicott for use by clinicians on an everyday basis, without having the disputes between their followers interfere with the full and rich platter of theoretical offerings they each of them provided.
In addition, this book looks at the biographies of Klein and Winnicott, to show how their theories were inspired by their contrasting lives and contrasting parenting and developmental dynamics. By examining their theories in relation to their biographies, one can see why their dialectical theoretical focuses emerged, highly contrasted in their major emphasis, and yet highly complementary when applied together to clinical work. This is a very new perspective. In demonstrating this approach, rich and vivid clinical case illustrations are provided for the reader.
Reviews and Endorsements
Read a review of this title in 'Barbara E. Berger's website'
Read a review of this title in 'American Journal of Psychoanalysis'
Read a review of this title in 'Psychoanalytic Psychology'
'In this extraordinary tour de force of the contemporary object relational integrative thought, Dr Kavaler-Adler builds bridges where others see divides. She offers in-depth exploration of major theoretical concepts of both Klein and Winnicott, seen here in their reciprocally enriching dialectic interaction. In the book, the dialectically interactive concepts become further elegantly integrated. The interactive reciprocity of such concepts as mourning, object survival, potential and transitional space, and others is comprehensibly exemplified by rich clinical material. The book presents a major theoretical and clinical contribution to the psychodynamic and psychoanalytic thought and clinical practice, as it not only extends the present day object relational conceptual base and its clinical applicability, it also provides a dynamic integration template with the widest clinical and theoretical relevance.'
— Eva D. Papiasvili, PhD, ABPP, Clinical Supervising Faculty, Doctoral Program in Clinical Psychology, Teachers College, Columbia University; Editorial Board member, International Journal of Group Psychotherapy

'I found the book to be quite an elegant testimony of Dr Kavaler-Adler's unique capacity to elucidate and integrate the tremendous and complex contributions of not only these two pillars of the object relations theories but also of other object relations theoreticians and beyond. It is a must read for anyone interested in reaching a more profound understanding of these giants and the way their unique and apparently different theoretical emphases can be integrated into a cohesive whole. It is written with the clarity of a master who is able to elucidate complex and far-reaching concepts in ways that even those familiar with these theories can appreciate and admire.'
— Rafael Art Javier, PhD, ABPP, Professor of Psychology and Director of Postgraduate Professional Development Programs, St. John's University
About the Author(s)
Dr Susan Kavaler-Adler, PhD, ABPP, NCPsyA, D.Litt is a practicing clinical psychologist and psychoanalyst for over 35 years and Supervisor of psychotherapists practicing psychotherapy, psychoanalysis, and group therapy. Dr Kavaler-Adler is the Co-Founder, Executive Director, and Senior Faculty & Training Supervisor of the Object Relations Institute for Psychotherapy and Psychoanalysis.
You may also like