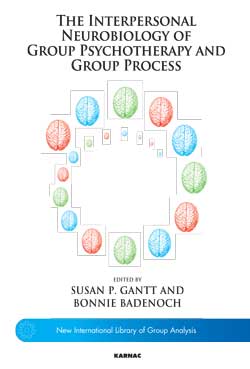 Book Details
Publisher : Routledge
Published : February 2013
Cover : Paperback
Pages : 240
Category :
Group Psychotherapy
Category 2 :
Neuroscience
Catalogue No : 33736
ISBN 13 : 9781780491776
ISBN 10 : 1780491778
Also by Bonnie Badenoch
Also by Susan P. Gantt
Might it be possible that neuroscience, in particular interpersonal neurobiology, can illuminate the unique ways that group processes collaborate with and enhance the brain's natural developmental and repairing processes? This book brings together the work of twelve contemporary group therapists and practitioners who are exploring this possibility through applying the principles of interpersonal neurobiology (IPNB) to a variety of approaches to group therapy and experiential learning groups. IPNB's focus on how human beings shape one another's brains throughout the life span makes it a natural fit for those of us who are involved in bringing people together so that, through their interactions, they may better understand and transform their own deeper mind and relational patterns. Group is a unique context that can trigger, amplify, contain, and provide resonance for a broad range of human experiences, creating robust conditions for changing the brain.
The chapters included here introduce and highlight the theoretical and research literatures from an IPNB perspective, especially the newer understandings of brain plasticity, mirror neurons, the autonomic nervous system, implicit and explicit memory, affect regulation and the relation between attachment and brain development. Building on these understandings, the authors elaborate on work with varying types of groups as seen through an IPNB lens, for example; how systems-centered therapy creates a rich neurobiological climate that supports integration; how children's groups can help with sensory motor, psychological, and interpersonal development; how using an IPNB frame enables couples' groups to attain more solid interpersonal regulation; and how experiential learning groups can transform implicit memory.
Reviews and Endorsements
'This groundbreaking volume offers a number of creative contributions that integrate extensive group psychotherapy experience with cutting edge neuroscience. Writing on work with children, adults, and couples, all authors utilize the interdisciplinary perspective of interpersonal neurobiology to model the conscious and unconscious psychoneurobiological mechanisms that underlie the explicit and especially implicit change mechanisms embedded in group psychotherapy. This book will be of great value to our understanding of how effective emotionally-focused group work can act as a growth-facilitating environment for optimizing brain circuits in the 'social' 'emotional' right brain, the biological substrate of the human unconscious mind. It also serves as a theoretical source for the development of evidence-based, yet clinically sound group psychotherapy models.'
- Allan N. Schore, author of The Science of the Art of Psychotherapy and Affect Regulation and the Origin of the Self

'This clearly and beautifully written collection of peer reviews and previously published articles concerning the interpersonal neurobiology of group psychotherapy and group process is essential reading. Interpersonal neurobiology is a source of a fuller understanding of people in groups, groups in people, and especially of the web of affiliations that structure communicational networks and the information carried through them. This is necessary for the development of our theory and clinical practice. Interpersonal neurobiology underpins the deeper study of the social unconscious, including the development of the social brain and its effects on people in relationships and vice versa.'
- Earl Hopper, Ph.D. psychoanalyst and group analyst, Editor of the New International Library of Group Analysis
About the Editor(s)
Susan P. Gantt, Ph.D., ABPP, CGP, is a psychologist and Assistant Professor in Psychiatry at Emory University School of Medicine where she coordinates group psychotherapy training. She is the Director of the Systems-Centered Training and Research Institute and co-author of the books Autobiography of a Theory and SCT in Action with Yvonne Agazarian. She was recently awarded the Alonso Award for Excellence in Psychodynamic Group Psychotherapy by the Group Psychotherapy Foundation for her work with Paul Cox on the special issue of the International Journal of Group Psychotherapy on 'Neurobiology and Interpersonal Systems: Groups, Couples and Beyond.'
Bonnie Badenoch, PhD, LMFT, is a marriage and family therapist, supervisor, teacher, and author who is integrating the discoveries of relational neuroscience into the art of therapy. She co-founded the nonprofit agency, Nurturing the Heart with the Brain in Mind in Portland, Oregon. As a mentor/supervisor of marriage and family therapist interns, she supports their developing mental health while helping them internalize the principles of interpersonal neurobiology. Bonnie currently teaches at Portland State University, and speaks internationally about applying IPNB principles both personally and professionally. She is the author of Being a Brain-Wise Therapist (2008) and The Brain-Savvy Therapist's Workbook (2011).
You may also like