The Impossibility of Knowing: Dilemmas of a Psychotherapist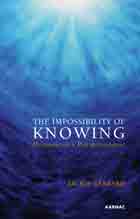 Book Details
Publisher : Routledge
Published : 2011
Cover : Paperback
Pages : 176
Category :
Individual Psychotherapy
Catalogue No : 29479
ISBN 13 : 9781855758247
ISBN 10 : 1855758245
This is a book that assembles and integrates Jackie Gerrard's clinical work and thinking over the many years of her working life. Part I focuses on patients with specific types of psychopathology and explores particular difficulties in technique and thinking. Part II addresses the issues of love, hate, and the erotic. In Part III, specific challenges to the psychotherapeutic frame are demonstrated in chapters on enactments and on work with an absent patient. Richly illustrated throughout with clinical vignettes, above all, Gerrard stresses the importance of the enquiring mind and the struggle not to "know" but to be ever ready to "not know" and to explore.
The book should be of interest to qualified practitioners, to those who are training in psychodynamic or psychoanalytic work, and to anyone who has an interest in psychoanalysis and the "impossibility of knowing".
Reviews and Endorsements
'For those who regret the apparent demise of sexuality in analytic therapy, this collection of papers is a refreshing reminder of the problems therapists face when entering the heat of the Freudian kitchen. The reader will be assisted in charting a course between the twin perils of evasion on the one hand and unthought enactment on the other. Highly recommended.'
- David Riley, Fellow, British Psychoanalytical Society

'A highly original and brave exploration of many issues, including the delicate relation between seduction and love.'
- Anne Alvarez, Consultant Child and Adolescent Psychotherapist

'Jackie Gerrard writes about the complexities and dilemmas that face the psychotherapist, particularly when confronted by aspects of her own unconscious. She recognizes that the real barrier to change can lie within the therapist's own resistance to truths that patients are trying to communicate. Working through these barriers allows her patients to experience mutuality and depth within the relationship.'
- David Morgan, Fellow, British Psychoanalytical Society

'Being a psychotherapist is endlessly fascinating and endlessly difficult. Gerrard shows her participation in both these states. She has learned from experience and she shares it fruitfully in the instructive and thoughtful chapters in this book.'
- Lesley Murdin, Psychoanalytic Psychotherapist, Hon. Fellow UKCP

About the Author(s)
Jackie Gerrard is a Senior Member and Fellow of the London Centre for Psychotherapy (LCP) and a Training Therapist and Supervisor for the LCP and other psychotherapy and counselling training organizations. Her background is in social work and she has been a practising psychotherapist for almost thirty years. Her private practice is in Hertfordshire, where she sees individuals and couples for therapy, and supervises trainees and qualified therapists. An important focus of her working life has also been on teaching and writing.
You may also like