The Impact of Attachment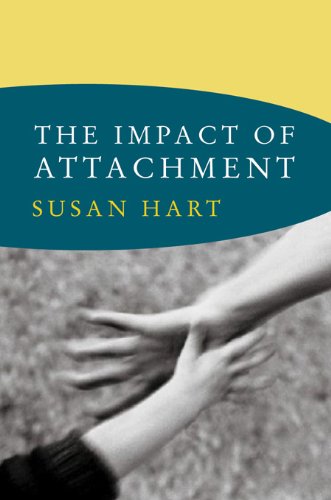 Book Details
Publisher : W.W.Norton
Published : January 2011
Cover : Hardback
Pages : 224
Category :
Attachment Theory
Catalogue No : 29915
ISBN 13 : 9780393706628
ISBN 10 : 0393706621
Also by Susan Hart
How early infant-parent interactions can explain adult social and emotional relationships.
Combining theories of neurobiology, interpersonal relationships, and intrapsychic concepts, this book explores the importance of attachment. Hart addresses children's normal development and relational disorders and presents an integrated therapeutic approach that takes attachment issues into consideration.
Reviews and Endorsements
'Susan Hart has unified her brilliant and compelling command of both the objective scientific and the subjective psychotherapeutic aspects of attachment into a cutting-edge synthesis that she calls developmental neuroaffective psychology. In this book Hart makes the often-confusing science of attachment highly accessible to both practitioner and researcher. The book's contents are well balanced with a refreshingly adequate portion dedicated to translating theory into principles for treatment.'
- Babette Rothschild, MSW, author of The Body Remembers

'Hart's book is striking for its integration of a contemporary neuroaffective perspective, dynamics, and the telling impact of dysregulation on development.'
- Ed Tronick, University Distinguished Professor, Department of Psychology, University of Massachusetts, Boston

'The Impact of Attachment, the title of Susan Hart's book, says it all. This book of rigorous science and heartfelt clinical brilliance provides a clear neuro-developmental map of how to understand the power and intricacies of our first experiences in life, and how they set a template upon which all later experiences are built. She also helps us to address some of the most important topics in society-how we teach hate and how we can teach love and respect. This book speaks not only to clinicians, but to educators and parents who wish to deeply understand and positively influence their children. Over the years, I have had the opportunity to teach with Susan and to learn from her. She is a bright star and a clear author; she is able to distill complex theories and research into readily understandable concepts.'
- Peter A Levine, PhD, author of Trauma through a Child's Eyes
About the Author(s)
Susan Hart is a psychologist who has been the director of a municipal family therapy centre; her experience also includes work in municipal social services and in a children's psychiatric ward. Today, she has an independent practice and works mainly with professional supervision of psychologists, visiting nurses, and social workers in child and family departments, personnel in child psychiatric wards, and advisers to foster families. She is the author of several books and articles on neuroaffective developmental psychology, and frequently gives lectures and courses on the topic.
You may also like