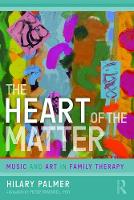 The Heart of the Matter invites therapists from all disciplines to consider the use of music and art in their work with families. It introduces systemic music and art ideas, giving clinical examples from practice, and a rationale for using each technique. Conversations with therapists who have explored and incorporated the techniques into their work are shared, and include both personal and professional responses to incorporating new methods in practice.
Through a back drop of exploration into what creativity is, the history of the arts in therapy, and consideration of what happens when we use words, the case for music and art to be part of practice with families is presented. This book is more than a handbook of techniques; it explores who we are as therapists, our challenges and our resourcefulness, as we operate in multiple systems to bring about positive change.
About the Author(s)
Hilary Palmer is a Consultant Family & Systemic Psychotherapist and qualified music therapist, working for the NHS and in private practice in Surrey. Formerly a clinical lead in Child & Adolescent Mental Health Services in Berkshire, she has worked across age ranges and began her career in the field of learning disability. Hilary completed her doctorate at the Tavistock, London, in 2014, researching music, art and families.
You may also like