The Happiness Effect: How Social Media is Driving a Generation to Appear Perfect at Any Cost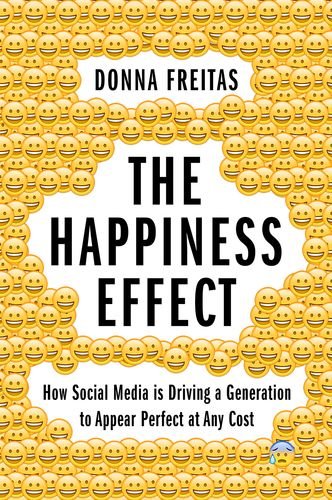 Book Details
Publisher : Oxford University Press
Published : 2017
Cover : Hardback
Pages : 352
Category :
Popular Psychology
Catalogue No : 39321
ISBN 13 : 9780190239855
ISBN 10 : 0190239859
Sexting. Cyberbullying. Narcissism. People-and especially the media-are consumed by fears about the effect of social media on young people. We hear constantly about the dangers that lurk online, and about young people's seemingly pathological desire to share anything and everything about themselves with the entire world.
Donna Freitas has traveled the country, talking to college students about what's really happening on social media. What she finds is that, while we focus on the problems that make headlines, we are ignoring the seemingly mundane, but much more widespread, problems that occur every day. Young people, she shows, feel enormous pressure to look happy all the time-and not just basically content, but blissful, ecstatic, inspiring and successful in their personal, professional, and academic lives-regardless of how they actually feel. Of course, these young adults are not that happy, at least not all of the time, and the constant exposure to the seemingly perfect lives of other people on social media only makes them feel worse. What's more, far from wanting to share everything about themselves, they are terrified of sharing something that will come back to haunt them later in life. The rise of social media has brought about a dramatic cultural shift: the need to curate a perfect identity online that often has little to do with reality.
The consequences, Freitas shows, can be very real. Drawing on an online survey and in-person interviews with students from thirteen campuses around the U.S, Freitas offers a window into the social media generation and how they use Facebook, Snapchat, and Twitter, and other online platforms. She presents fascinating insights about how these people are consciously creating alternate identities for themselves, while also suffering from the belief that the other people they encounter online really are as perfect as their profiles appear. This is an eye-opening look at the real world of social media today.
About the Author(s)
Donna Freitas is the author of both fiction and nonfiction, and she lectures at universities across the United States on her work about college students, most recently at Colby, Pepperdine, Harvard, and Yale. Over the years, she has written for national newspapers and magazines, including The Wall Street Journal, The New York Times, The Boston Globe, and The Washington Post, and she's currently a non-resident research associate at the Center for Religion and Society at Notre Dame. Donna has been a professor at Boston University in the Department of Religion and also at Hofstra University in their Honors College.
You may also like