The Guide to Buddhist Counseling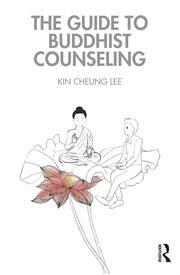 Book Details
Publisher : Routledge
Published : February 2023
Cover : Paperback
Pages : 202
Category :
Counselling
Catalogue No : 96974
ISBN 13 : 9780367458058
ISBN 10 : 9780367458
Buddhist concepts and practices have become increasingly popular and integrated into professional psychology. This book is the first to propose a theoretical orientation for counseling based on Early Buddhist teaching, and introduce it to counseling professionals for use in mental health treatment and practice.
Lee begins his book by outlining the essential concepts required to understand the Buddhist view of human nature and the world. He presents the Buddhist counseling model and suggests practices for the spiritual advancement of counselors, including self-cultivation plans, contemplative exercises, and different types of meditation. Lastly, he discusses how to apply the model in assessment, conceptualization, and intervention, and uses several case examples to illustrate the actual process.
As a go-to book in Buddhist counseling, this book is a valuable resource for Buddhist chaplains, counselors, and mental health professionals interested in using Buddhism in their clinical practice, as well as graduate students in religious studies and counseling.
You may also like