The Fictions of Dreams: Dreams, Literature, and Writing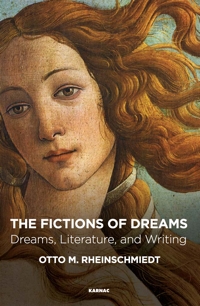 Book Details
Publisher : Karnac Books
Published : May 2017
Cover : Paperback
Pages : 262
Category :
Culture and Psychoanalysis
Category 2 :
Psychoanalysis
Catalogue No : 38224
ISBN 13 : 9781782204206
ISBN 10 : 1782204202
The Fictions of Dreams explores the close connection between the narrative nature of dreams and the narrative devices employed in literature and creative writing. The book is unique in its confluential approach, linking the fictions of dreams with literary fictions and case studies which illuminate the centrality of dream analysis in therapeutic work.
Dreams and literature are closely related. The dream's essence lies in its narrative facility. Dreams are autobiographical fictions which tell the story of the dreamer's life history, her insertion in transgenerational family themes, and her ethnic and cultural identity. In that sense dreams are psycho-social depositories and makers, not unlike what can be found in world literature: the recreation of interiority and historicity of a given time period.
The interconnected worlds of dreaming and fiction writing tend to employ the same narrative devices: the memorial mode (Patrick Modiano), multi-temporality (Gabriel Garcia Marquez), poeisis (Kafka, Ted Hughes, Colm Toibin), historical consciousness (Irene Némirowsky), and 'infinite connectivity' (Patrick White).
The poetry of dreams and world literature also share the exposition of human motivation, as can be seen in the complex interiority of dreams and fictional characters. Both dreams and literature bring to the fore that which is hidden but seeks expression, such as the conundrum of fear, the propensity for destructiveness, the search for love, the search for knowledge, the search for beauty, the 'will to power', and the search for the spiritual.
The theories employed are psychoanalysis, literary criticism, quantum physics, chaos theory, sleep research, the study of historical consciousness, theories of the ancient dreamers (Artemidorus, Aristotle), and theories of the social nature of dreaming. Case studies, actual dream fictions, will be used to illuminate the dream theories presented.
Reviews and Endorsements
'This volume - the culmination of a lifelong interest in dreams - sheds new light on the relationship between dreams, fiction, and the creative process. Referencing a wide range of themes and sources, Otto Rheinschmiedt has broken new ground in a number of important areas, and has written a superb book. It is a fascinating and highly enjoyable read.'
— Professor Mark Stein, Chair in Leadership and Management, University of Leicester, UK

'This book is a compelling and unique exploration of dreams that takes a path through Freudian dream theory by way of ancient, classical and modern literature and art, as well as sleep research, chaos theory and quantum physics. The poetry and power of dreams is vividly and movingly illustrated through the dreamwork of patients drawn from the author's vast clinical experience. This scholarly and accessible book takes us beyond psychoanalytic thinking on dreams as originating in individual psyches, to consider them as psychosocial phenomena that have their roots and expression in history and the social world, in truth and in fiction. It provides a valuable resource for those in clinical practice, psychosocial researchers and writers, and to anyone who has ever dreamed.'
— Dr Helen Lucey, University of Bath, co-editor of the Journal of Psychosocial Studies

'A book in which the writing is energised and given life by the turbulence of Otto Rheinschmiedt's passion. An original work that will undoubtedly appeal to lovers of the mind as well as to lovers of the human heart.'
— Dr Sam Burnside MBE, poet and founder of the Verbal Arts Centre, Belfast
About the Author(s)
Otto M. Rheinschmiedt is a training group analyst, psychotherapist, and psychologist working in private practice in Bath. He also works as a consultant with staff teams and organisations, and is associate lecturer at the UWE in Bristol. He has worked analytically with dreams for over thirty years, taught dream analysis at Bath University, and has presented his ideas on dreams on BBC radio programmes. His twin passions are dream research and critically reading world literature.
You may also like