The Fat Lady Sings: A Psychological Exploration of the Cultural Fat Complex and its Effects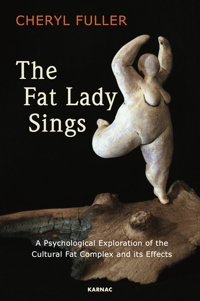 Book Details
Publisher : Routledge
Published : March 2017
Cover : Paperback
Pages : 214
Category :
Individual Psychotherapy
Category 2 :
Eating Disorders
Catalogue No : 39030
ISBN 13 : 9781782204978
ISBN 10 : 1782204970
In the analytic encounter, body meets body, yet rarely is body mentioned. Without a body, we become like the nymph Echo, a disembodied voice condemned to echo what she hears. Rooted in analytical psychology, The Fat Lady Sings challenges the notion that the fat patient must change to fit into a thin world.
For years we have been bombarded by warnings about the Obesity Epidemic, a concern rivaling that about terrorism. Curiously, the depth psychological literature is mostly silent about this preoccupation, its origins, meaning, and the psychotherapeutic treatment issues involved.
Almost everything written about fat and being fat comes from the world of the slender. Fat people are rarely consulted about their lives, how they eat and move and live. They are too often not seen as credible, or as reliable witnesses to their own experience. The Fat Lady Sings is an exploration of fat and our culture, the fat complex that grips our culture, how the war on obesity is fought in the clinical setting, and how being fat is an ongoing traumatic experience. The book grows out of the author's life as a fat woman, her work as a Jungian psychotherapist, and as a patient in analysis.
Reviews and Endorsements
'Part memoir, part inquiry and inquisition, The Fat Lady Sings is a passionate, intimate, and intelligent exploration into one of our most intransigent prejudices. Cheryl Fuller goes toe to toe with the theories, scientific and psychological, of what it means to live in a large body in our culture. Fuller's unflinching examination of the social tyranny and internalized pain inflicted by body shaming is a tour de force. No one will think or feel the same after reading this book.'
––Patricia Reis, author of Motherlines: Love, Longing, and Liberation
'This work is at once sophisticated, accessible, helpful, and freeing. Fat people will benefit in ways rarely felt or encountered but so will people of any build. This is a friendly book that has a way of melting degradation, rejection, second-class citizenship, pressure to be someone or something else. No apologies or self-immolation, but a voice that touches and makes you feel more alive because of its self-expression.'
––Michael Eigen, author of Under the Totem: In Search of a Path, The Sensitive Self, and Faith

'Cheryl Fuller weaves her therapeutic knowledge and her personal experience to offer a powerful critique of the traditional Jungian narrative of fat as the outcome of trauma. Fuller argues that regardless of whether fat can be attributed to trauma, it is a cause of trauma to fat persons forced to live in a society that demeans and dehumanizes them. Fuller's unflinching willingness to examine her experiences on both sides of the analytical relationship adds an important contribution to the literature. She offers brave championship of those objectified and rendered voiceless by anti-fat bigotry.'
––Professor Hadar Aviram, Harry and Lillian Hastings Research Chair, and vice-president, Western Society of Criminology, UC Hastings College of the Law

'This is a beautiful book, leading us gracefully through a sensitive exploration of how it is to live in the spotlight of the judgement of others and ourselves. Cheryl Fuller's clarity makes it possible to discuss the energy required to deal with the trauma, societal dismissiveness, and the inevitability of our bodies to rebel from uniformity. I have lived all my life in a world where
the "full-figured girl" is no longer valued. If even one of the doctors who added mention of my weight to my various symptoms throughout my life could read and learn from this book, the world might be a better place for all of us.'
––Janice MacDonald, bestselling Canadian writer

'The Fat Lady Sings is a superb and compassionate work for anyone who cares about eliminating prejudice, hearing what is unspoken in our society, and for the future of psychotherapy itself. The "fat complex" leaves fat women as one of the most reviled and misunderstood of social groups. Just as there is no feminism without the elimination of sizeism, so there can be no true psychotherapy unless the ongoing social traumatization of the fat body is given its due. The Fat Lady Sings is scholarly, provocative, revisionary and revealing.'
––Susan Rowland, PhD, chair of the MA in Engaged Humanities and the Creative Life, Pacifica Graduate Institute, USA, and author of Jung: A Feminist Revision
About the Author(s)
Cheryl Fuller, PhD, is a Jungian psychotherapist living on the coast of Maine. She has her doctorate in Jungian Studies and has had many years of study and training at various Jung institutes, as well as in Jungian analysis. She brings over forty years of clinical experience, humuor and enthusiasm to the study of Jung, psychotherapy, feminism, and fat studies. She has a private practice for individuals in Maine and online.
You may also like