The Ethics of Interpersonal Relationships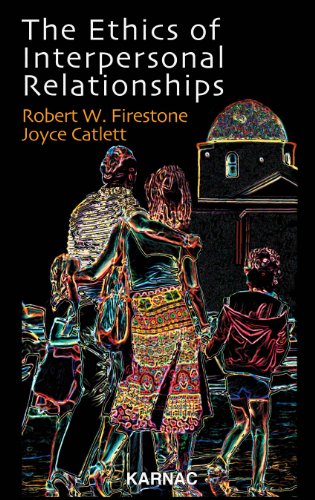 Book Details
Publisher : Karnac Books
Published : 2009
Cover : Paperback
Pages : 464
Category :
Family, Couple and Systemic Therapy
Catalogue No : 26231
ISBN 13 : 9781855756052
ISBN 10 : 1855756056
Also by Robert W. Firestone


Also by Joyce Catlett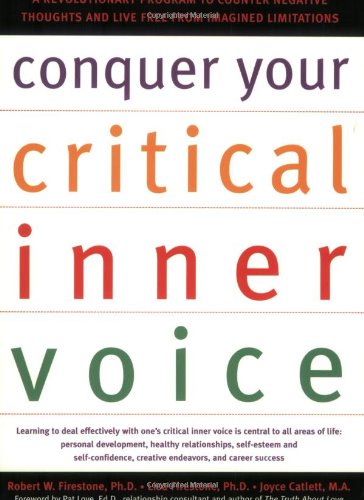 Our Customers Average Rating
Read all reviews (2)





'Our inspiration for writing this book springs from a deep feeling for people and a grave concern that without a proper understanding of the reasons for their inhumanity in relation to one another and the development of a compassionate world view, it is likely that human beings may eventually destroy themselves and life on the planet. This work is an attempt to explain the source of destructive behaviour and how it manifests itself in personal relationships between men, women, couples, and families, and in the social arena. We present a position that offers a hope of altering the destiny of humankind's unethical behavior through better psychological understanding and education. Understanding the source of a person's aggressiveness in defending the fantasy bond and learning to cope with the voice process have strong implications for child-rearing and better mental health practices. Identifying destructive behaviours and faulty programming in family life and society, developing insight into the relationship between defences and aggressive responses, and offering a method to counteract destructive trends constitute a challenge to what many people consider to be humankinds basically unethical nature.'
- From the Authors' Introduction
Reviews and Endorsements
'...a valuable and well-researched, solid contribution to the field of ethics... I found myself admiring the organization and thorough nature of the book. Also, it added to my conceptualization of the lives of more than a few of my own patients. It is a book in which one cannot help but recognize glimpses of family, friends and self. If nothing else, the authors have provided an illuminating mirror, with optimism and hope for correcting that which ails us as individuals and society as a whole.'
- Meghan A. Harris in Bioethical Inquiry: 8 (2011)

'This wonderful book rescues ethics from the dusty shelf of rules and abstractions. With sound scholarship, fresh thinking, and a friendly voice, Firestone and Catlett help us confront the most urgent questions of human existence and our relationships with each other. An invaluable resource to learn from, argue with, and think through who we are and want to be.'
- Kenneth S. Pope, PhD, ABPP, author (with Melba Vasquez) of Ethics in Psychotherapy and Counseling: A Practical Guide

'Firestone and Catlett provide a well-developed psychological explanation of unethical behavior. The enduring damage from early emotional deprivation and its patterned scars of personal defensiveness render any of us less able to treat others as we would want to be treated. Although not intended as an ethics text, the authors poignantly illustrate the moral philosophy of care ethics and the moral consequences of humans situated in uncaring worlds. Spouses, partners, parents, healthcare professionals, corporate executives, and political leaders may all benefit from a fresh reminder that more care in our personal interactions is the same model of ethics needed for global survival.'
- Ronee Smith Griffith, PhD, Director, Relational Ethics Institute

'In examining the ethics of interpersonal relationships Firestone and Catlett take a psychologist's aim at power, friendship, and transience and place them in a historical and pragmatic perspective. They posit the universal fear of mortality as an engine that ultimately generates interpersonal rifts as well as global abuses of power. By way of illustration, they describe their compassionate view of personal engagement in the "friendship circle", a 30-year, ongoing social experiment that neutralizes fear and aversive childhood conditioning. This is thought-provoking reading!'
- Thomas F. Nagy, PhD, Independent practitioner in Palo Alto, California; author, Ethics in Plain English.

'I was deeply moved by Robert Firestone's and Joyce Catlett's inspiration for writing this wise and insightful book. Each chapter is full of information and new insights, and the book as a whole points the reader to "a more satisfying and effective mode of existence, a lifestyle based on a non-defended, vulnerable, and feelingful approach to life." I whole-heartedly recommend the book to all readers, professional and lay alike, who are concerned with the deterioration of basic human ethics evident all around us.'
- Professor Ayala Malach-Pines, Department Head, Ben-Gurion University, Israel

'In a profoundly compassionate and elegant new book, The Ethics of Interpersonal Relationships (2009), Robert Firestone and Joyce Catlett present a broad psychological view on the source of unethical behavior.'
- Ronee Smith Griffith, Ph.D., Ridgeview Institute's Magazine
About the Author(s)
Robert W. Firestone, Ph.D., clinical psychologist, author, and artist. Dr Firestone was in private practice of psychotherapy from 1957 to 1979. In 1979, he joined the Glendon Association as its consulting theorist. His major publications include The Fantasy Bond, Compassionate Child-Rearing, and Fear of Intimacy. His studies of negative thought processes led to the development of an innovative therapeutic methodology described in Voice Therapy, Suicide and the Inner Voice, Combating Destructive Thought Processes, Creating a Life of Meaning and Compassion: The Wisdom of Psychotherapy and Sex and Love in Intimate Relationships. In collaboration with his daughter, Dr Lisa Firestone, he developed three assessment instruments: The Firestone Assessment of Self-Destructive Thoughts [FAST], The Firestone Assessment of Suicide Intent [FASI] and the Firestone Assessment of Violent Thoughts [FAVT].
More titles by Robert W. Firestone
Joyce Catlett, MA, author and lecturer, has collaborated with Dr. Robert Firestone in writing 12 books and numerous professional articles. She began her career in psychology in 1972, working with autistic children at the Camarillo State Hospital Children's Treatment Center in Camarillo, CA. A founding member of Glendon Association, she has been a national lecturer and workshop facilitator in the areas of child abuse prevention and couple relations. With Glendon, she has co-produced 40 video documentaries on a wide range of mental health topics. Ms. Catlett was also instrumental in the development and training of instructors in the Compassionate Child Rearing Education Program and in training mental health professionals in Voice Therapy Methodology.
Customer Reviews
Our customers have given this title an average rating of 5 out of 5 from 2 review(s), add your own review for this title.
Jina Carvalho on 08/06/2009 02:38:23





(5 out of 5)
This book presents a major shift in understanding, why people act as they do and offers both hope and suggestions on how to live a better live.
Carolyn Firestone on 03/06/2009 23:41:09





(5 out of 5)
You may also like