The Emergent Container in Psychoanalysis: Experiencing Absence and Future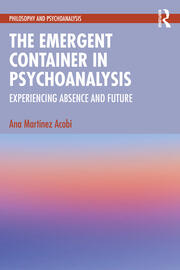 Drawing largely from the psychoanalytic ground of Jung, Bion and Winnicott, from Plato and Whitehead and from numerous clinical studies, this book explores 'Absence' and 'Future' in the context of their many emotional and conceptual meanings.
Bringing together absence and future with Plato's concept of the 'receptacle' as described in the Timaeus and with Whitehead's handling of it, the author examines containment in psychoanalytic process. Here Jung's concept of 'container' (Tavistock Lectures, 1935) is in an ancient and continuing tradition of process thinking. The term 'emergent container' has been coined as the metaphorical and metaphysical space where the interplay between potentiality and actuality meet in the process of emergent reality. As absence emerges, experience consciousness develops, as well as the potential for symbolic thinking. In this sense, the experience of absence is considered as a potential container for and of creativity. If absence does not emerge as experience, there often follows the compulsion to fill emptiness with hallucination. Absence as it plays into the experience of containment is a key factor in the developmental and psychoanalytic process.
The Emergent Container in Psychoanalysis offers an exciting prospect for further research by psychotherapists and philosophers interested in the field of contemporary psychoanalytic thinking within and beyond their discipline. The book is also of great value to the inquisitive reader open to an exploration of human nature not confined to a single body of knowledge.
Reviews and Endorsements
'This book invites reflection on the nature of thought in relation to philosophical and analytic concepts of absence. Psychological practitioners have much to gain from this examination of thinking from the Greeks to the recent past.' - Lesley Murdin, psychoanalytic psychotherapist in private practice in Cambridge and author of several books including How Much is Enough? and How Money Talks

'This is a work of great reach and originality. The book will be invaluable to therapists wanting to deepen their understanding of psychic development. It will also be of real interest to those fascinated by the unconscious processes and roots of creativity — whether that is expressed through the arts or in a lived life. It explores the nature of containment that can lead to psychosis or to sublimation and inventiveness. The ideas put forward have implications for clinical practice and offer much food for imaginative thought.' - Maggie Murray, psychoanalytic psychotherapist in private practice.

'A refreshingly new look at the foundations of psychoanalysis in relation to the philosopher Alfred North Whitehead, who turns out to be more than relevant. Deep thinking from a contemporary psychotherapist, practicing in a greatly changed world.' - Jenny Pearson, psychoanalytic psychotherapist and dramatherapist and author of several books including Analyst of the Imagination, the Life and Work of Charles Rycroft and Discovering the Self through Drama and Movement, the Sesame Approach
About the Author(s)
Ana Martínez Acobi is a practising Psychoanalytic Psychotherapist in North West London. She was born in Spain in 1967 and moved to London in 1986 where she studied and trained. Her interest lies in studying the unity of metaphysical and psychoanalytic thinking.
You may also like