The Disordered Couple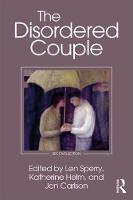 Book Details
Publisher : Routledge
Published : April 2019
Cover : Paperback
Pages : 348
Category :
Family, Couple and Systemic Therapy
Catalogue No : 94225
ISBN 13 : 9781138578593
ISBN 10 : 9781138578
Also by Jon Carlson
Also by Len Sperry

The Disordered Couple, Second Edition focuses on couples with psychiatric disorders and/or relational disorders that significantly impact their relationship, mental health, and well-being. It is the first and only book to provide mental health professionals and trainees with cutting-edge, culturally sensitive, and evidence-based clinical strategies for working effectively with disordered couples. While maintaining its focus on disordered couples, this second edition adds several new features and considers key trends that have impacted the structure of couples and families since the original edition appeared, including the influence of social media and technology, legalization of same-sex marriage, increases in the availability of internet pornography, and changes in societal norms regarding romantic relationships.
The disorders covered reflect revisions to the DSM-5 and both psychiatric disorders and relational disorders, and the book highlights clinically relevant and culturally sensitive intervention practices for working with a wide variety of disordered couples. Chapters also include a section on specific multicultural implications for the type of couple discussed. With proven strategies for effectively assessing, conceptualizing, and implementing treatment with disordered couples, this book is an essential reference for marital, clinical, counseling, and psychiatry professionals, as well as trainees in these areas.
The Disordered Couple, Second Edition will be of great assistance to mental health professionals in providing disordered couples with the most up-to-date, culturally sensitive, and relevant clinical care.
About the Editor(s)
Len Sperry, MD, PhD is a Professor of Mental Health Counseling at Florida Atlantic University in Boca Raton, Florida and Clinical Professor of Psychiatry and Behavioral Medicine at the Medical College of Wisconsin in Milwaukee. He has some 600 publications including 60 professional books. He is on the editoral board of the American Journal of Family Therapy, The Family Journal, and the Journal of Marital and Family Therapy.
Jon Carlson, PsyD, EdD, ABPP is Distinguished Professor of Psychology and Counseling at Governors State University, University Park, Illinois and a Psychologist with the Wellness Clinic in Lake Geneva, Wisconsin. He is the author of 50 books, 150 articles and developed and produced over 250 commercial videotapes that feature the most prominent leaders in the field.
You may also like