The Dao of Neuroscience: Combining Eastern and Western Principles for Optimal Therapeutic Change
Book Details
Publisher : W.W.Norton
Published : January 2010
Cover : Paperback
Category :
Neuroscience
Category 2 :
Individual Psychotherapy
Catalogue No : 29211
ISBN 13 : 9780393705973
ISBN 10 : 0393705978
Also by C. Alexander Simpkins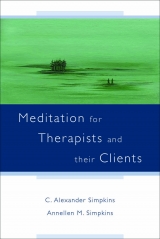 Also by Annellen M. Simpkins
Neuroscientists have made huge advances in our understanding of the brain, and yet as scientists learn more, paradoxes arise. How does the braina material substancerelate to and produce nonmaterial thoughts and emotions? What explains the research showing that non-rational, unconscious experiencing can sometimes be more accurate than deliberate, conscious thought? The resolution of these paradoxes has important implications for all the helping fields, suggesting new approaches to mindbrainbody change.
By weaving together Eastern traditions (including Yoga, Buddhism, Zen, and Daoism) and Western science, new understandings previously not considered emerge. The Dao of Neuroscience is an insightful introduction to these traditions which sheds new light on the relationship between the mind and the brain. Dao is an ancient Eastern method, a Way or Path for exploring and learning. From the Eastern perspective, everything has its Dao, its Way, even the brain. As we learn the Dao of neuroscience, we come to understand the brain's most optimal ways of functioning and how to facilitate its natural processes toward health, happiness, and fulfillment.
Reviews and Endorsements
Drawing on knowledge about neuroscience, this book examines the resonance between eastern and western philosophical and psychological models. DL
About the Author(s)
C. Alexander Simpkins, PhD, and Annellen M. Simpkins , PhD, have extensive training in psychotherapy, meditation, yoga, and Zen. They have clinical, teaching, and research experience using meditation either as the primary method or in conjunction with other forms of therapy. They have written several books on meditation, yoga, psychotherapy, and hypnosis, as well as books on several eastern philosophical traditions.
You may also like