The Complete Guide to Becoming an Autism Friendly Professional: Working with Individuals, Groups, and Organizations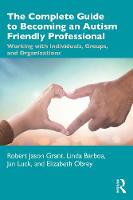 Book Details
Publisher : Routledge
Published : July 2021
Pages : 246
Category :
Autism and Aspergers
Catalogue No : 95785
ISBN 13 : 9780367615888
ISBN 10 : 9780367615
Also by Robert Jason Grant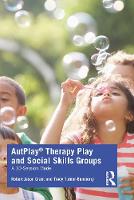 Based on the award-winning Autism Friendly Training Program, created by the non-profit organization STARS for Autism, this book empowers the everyday professional to a better understanding and skill in working with, interacting with, serving, and teaching children and adults who have autism spectrum disorder (ASD).
After a thorough explanation of ASD and how it affects children, adults, families, and communities, this guide describes the Autism Friendly Training Program and gives the reader insight into what it means to become autism friendly and to be an autism friendly training presenter. This text will enable those who are neurotypical to gain insight into the person, the stories, and the lives of those with ASD. It is a guide to understanding autism at a deeper level to enable relationship and support processes that define being autism friendly.
Providing the needed information, tools, and confidence to be autism friendly, this book will be beneficial to any and all businesses, organizations, groups, communities, families, and individuals who work with, serve, interact with, teach, parent, and experience life with an autistic person.
Reviews and Endorsements
"The timely release of this book provides an accessible and informative appreciation of Autism Spectrum Disorder (ASD). With the rapid increase in recognition and diagnosis of children and adults with ASD, there has not been a better time to understand more about this condition and have tools to best support, encourage and welcome those who are neurodiverse among us, in all sectors of our community.

R. J. Grant, L. Barboa, J. Luck, and E. Obrey have written a sensitive account about autism that factors in the individual, family, groups, and organizations. It is a call to action, for not just mental health and education professionals that work with those with ASD, but also community leaders in all sectors, to build in systems to optimize function and contribution of those with ASD and to celebrate the strengths in our diverse communities that grow integrated, accepting, and flourishing societies." - Jacki Short, counselling psychologist and Play Therapy supervisor, director of Sydney Centre for Creative Change in Sydney, Australia.

"As a practicing Speech-Language Pathologist, I highly recommend this book. It would be a great asset to parents, teachers, doctors, students, nurses, paraprofessionals, therapists, and family members. I wish I had this book as a guide 25 years ago, as I was entering the field of speech pathology. It really is that one book that has packed so many resources, stories, and easy to follow information into 10 chapters." - Marti Clark, MS CCC-SLP.

"Parents of children with autism rally together to find professionals that will be an ally for them and a resource for their children's needs. When a professional is found that 'gets' our kiddos we share with other families who have children with autism. Being autism-friendly for a professional is a benefit and a gift for families who are already facing many obstacles for care. This book is a must-have for professionals who are willing to go that extra mile to meet the needs of those individuals and families impacted by autism." - Shelli Allen, BS, "That Autism Mom", author, speaker, advocate.

"Written by knowledgeable and experienced professionals in the field of Autism Spectrum Disorder, this excellent and timely resource is an essential book that could impact how professionals relate to and interact with individuals on the spectrum, whether it be in the workplace or the social arena." Renee Vajko Srch, author of Hope for Joshua and Miracle Moments

"Thank you for a thorough, accurate guide to understanding autism! I will be recommending this book to all my parents and to those who provide services to my students." - Brenda Bradshaw, PhD, director of Infinity Academy.
About the Author(s)
Robert Jason Grant, EdD, is a Licensed Professional Counselor, Advanced Certified Autism Specialist, and creator of AutPlay (R) Therapy. He serves on the Board of Directors for the Association for Play Therapy and is an accomplished autism author, advocate, and trainer.
More titles by Robert Jason Grant
Linda Barboa, PhD, has worked for several years as an educator in the United States and Europe. She has facilitated many autism trainings and is the author of several books about autism. She is currently the executive director of the nonprofit organization STARS for Autism.
Jan Luck holds a degree in Speech Pathology and Audiology. She is the board president for the nonprofit organization STARS for Autism. She is an author and advocate, and has trained hundreds of adults and children in the Autism Friendly Training Program.
Elizabeth Obrey is the vice president of STARS for Autism and currently works as a family advocate while pursuing a master's in Information Science and Learning Technologies. She is also a parent of children with multiple disabilities.
You may also like