The Clinical Interview: Skills for More Effective Patient Encounters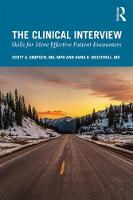 Book Details
Publisher : Routledge
Published : July 2019
Cover : Paperback
Pages : 210
Category :
Individual Psychotherapy
Catalogue No : 94495
ISBN 13 : 9781138346505
ISBN 10 : 9781138346
The Clinical Interview offers a new perspective on the patient encounter. Interpreting decades of evidence-based psychotherapy and neuroscience, it provides 60 succinct techniques to help clinicians develop rapport, solicit better histories, and plan treatment with even the most challenging patients.
This book describes brief skills and techniques for clinical providers to improve their patient interactions. Although evidence-based psychotherapies are typically designed for longer specialized treatments, elements of these psychotherapies can help clinicians obtain better patient histories, develop more effective treatment plans, and more capably handle anxiety-provoking interactions. Each chapter is brief and easily digestible, contains sample clinical dialogue, and provides references for further reading. These skills help clinicians practice more effectively, more efficiently, and with greater resilience.
Whatever your clinical specialty or role, whether you are a trainee or an experienced clinician, this title offers practical wisdom and an entirely new way to think about the clinical encounter. The Clinical Interview will be of great use to any student in a health-related field of study or a healthcare professional interested in refining their interviewing skills. It will help anyone from emergency medical technicians, nurses, and physician assistants, to nurse practitioners and physicians to build more meaningful patient relationships.
You may also like