The Bipolar Spectrum: Diagnosis or Fad?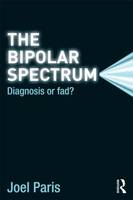 Book Details
Publisher : Routledge
Published : 2012
Cover : Hardback
Pages : 144
Category :
Clinical Psychology
Catalogue No : 32561
ISBN 13 : 9780415891813
ISBN 10 : 9780415891
Also by Joel Paris

Joel Paris discusses the over-diagnosis of bipolar disorder and the negative impact of this trend on clinical care. The book opens with a careful review of scientific evidence that verifies that diagnoses of bipolar disorder are often made on dubious grounds. Included in this discussion is a review of the drugs patients are prescribed, along with an overview of other treatments from which they could benefit. Paris then moves into a discussion of the clinical presentations of bipolar-I and --II to demonstrate that they should not be used to explain psychopathological phenomena, including depression, personality and behavioral disorders, and substance abuse and eating disorders. The last section of the text ties all of the ideas together and places the over-diagnosis of bipolar disorder in the larger context of fads to which psychiatry has long been prone.
About the Author(s)
Joel Paris was born in New York City, but has spent most of his life in Canada. Dr. Paris' research interest is in borderline personality disorder. Dr. Paris has 193 peer-reviewed articles, and is the author of 17 books and 40 book chapters. Dr. Paris is an educator who has has won awards for his teaching.
You may also like