The Autism Spectrum in the 21st Century: Exploring Psychology, Biology and Practice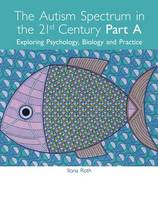 Book Details
Publisher : Jessica Kingsley
Published : 2010
Cover : Paperback
Pages : 452
Category :
Autism and Aspergers
Catalogue No : 29655
ISBN 13 : 9781849050876
ISBN 10 : 1849050872
The Autism Spectrum in the 21st Century is the definitive guide to the autism spectrum, introducing the reader to key concepts and developments in diagnosis, psychological and biological research, theoretical models, evidence-based intervention, educational strategies and family issues. The book charts how developments in theory, research and practice have shaped, and continue to shape, the evolving concept of autism which is at the core of this field.
The book explores: diagnostic principles and practice and their implications for prevalence; psychological functioning in autism, including sensory-perceptual, cognitive and socio-cognitive processes; genetics and brain function in autism, and the neurobiological basis for autism spectrum conditions; the range of therapeutic approaches available, including behavioral, communication-based and 'biological' interventions and their evidence base; educational implications, the options for individuals and families and the issue of inclusion; how autism affects the family unit; and, overarching issues and challenges for research, practice and people.
The Autism Spectrum in the 21st Century is essential reading for anyone personally or professionally interested in autism spectrum conditions, such as individuals on the spectrum and their families, students and researchers, clinical practitioners, teachers, social workers and healthcare professionals.
You may also like