The Asperkid's (Secret) Book of Social Rules: The Handbook of Not-so-obvious Social Guidelines for Tweens and Teens with Asperger Syndrome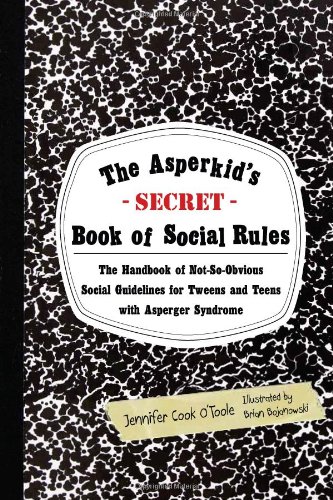 Book Details
Publisher : Jessica Kingsley
Published : 2013
Cover : Paperback
Pages : 272
Category :
Autism and Aspergers
Category 2 :
Popular Psychology
Catalogue No : 34265
ISBN 13 : 9781849059152
ISBN 10 : 1849059152
Also by Jennifer Cook O'Toole
Being a teen or tween isn't easy for anyone but it can be especially tough for Asperkids. Jennifer O'Toole knows; she was one! This book is a top secret guide to all of the hidden social rules in life that often seem strange and confusing to young people with Asperger syndrome.
The Asperkid's (Secret) Book of Social Rules offers witty and wise insights into baffling social codes such as making and keeping friends, blending in versus standing out from the crowd, and common conversation pitfalls. Chock full of illustrations, logical explanations, and comic strip practice sessions, this is the handbook that every adult Aspie wishes they'd had growing up. Ideal for all 10-17 year olds with Asperger syndrome, this book provides inside information on over thirty social rules in bite-sized chunks that older children will enjoy, understand, and most importantly use daily to navigate the mysterious world around them.
About the Author(s)
Jennifer Cook O'Toole was diagnosed with Asperger syndrome in adulthood, and is the mother of three young Asperkids. She is the founder of Asperkids LLC, a multi-media social education company and is an international speaker on Aspie issues. She previously worked as a social worker, and a teacher in both special needs and mainstream education. In 2012 she was honored with a GRASP Distinguished Spectrumite Medal, as well as a Temple Grandin Award. She is the author of Asperkids, The Asperkid's (Secret) Book of Social Rules, The Asperkid's Launch Pad, and The Asperkid's Not-Your-Average-Coloring-Book, also published by Jessica Kingsley Publishers. She lives near Charlotte, North Carolina.
You may also like