The Art of Silence and Human Behaviour: Interdisciplinary Perspectives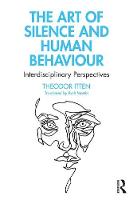 Book Details
Publisher : Routledge
Published : July 2020
Cover : Paperback
Pages : 202
Category :
Group Psychotherapy
Catalogue No : 95186
ISBN 13 : 9780367503888
ISBN 10 : 9780367503
This book examines the phenomenon of silence in relation to human behaviour from multiple perspectives, drawing on psychological and cultural-philosophical ideas to create new, surprising connections between silence, quiet and rest.
Silence and being quiet are present in everyday life and in politics, but why do we talk about it so rarely? Silence can be cathartic and peaceful, but equally oppressive and unbearable. In the form of communication, we keep secrets to protect ourselves and others, but on the other hand subjects can be silenced with dictatorial posturing - a communicative display of power - and something can be literally 'hushed up' that needs to be disclosed. In unique and engaging style, Theodor Itten explores the multi-layered internal conversation on silence in relation to the self and emotions, demonstrating why it is sometimes necessary in our modern society. Describing and analyzing human behaviour in relation to silence, the book also draws on psychoanalytic ideas by outlining the power of silence in processing our emotions and relationships and hiding innermost feelings.
With rich narrative signposts providing thought-provoking and amusing insights, and interpersonal communication examined in relation to everyday life, this is fascinating reading for students and academics in psychology, philosophy, cultural studies, and related areas.
Reviews and Endorsements
"The book examines the thoroughly contradictory concepts of speech and silence - depending on perspective and the demands of the situation - in a lively, always readable manner, and provides eloquent information on the essential nature of silence and its opposite." - Prof. Dr. Volker Tschuschke

"Theodor Itten has examined the subject, indeed the very concept of Silence, from so many different perspectives, in his thoughtful and intelligent rendering, it becomes an important antidote for the cacophony that surrounds us every day. The very stillness of the subject is a welcome antidote for the shrillness and hysteria of daily discourses that assault us on every level, from political, to the private and personal. That, in itself, is enough to make the book deserving of an international audience. A book that is desperately needed in the noisily empty times we live in today." - Deirdre Bair, Ph.D. Author of Jung: A biography and Parisian Lives: Beckett, de Beauvoir and me.


"... is not a purely theoretical discourse, but a fluid reading experience. You don't have to read it from cover to cover: the skilful use of headings allows you to dip in and pick up the thread in various different places. [It] offers a wealth of interesting facts, brought together in an entirely new way, about the history of silence - first and foremost, in the context of spiritual traditions [...] He has put together a lively compendium." - Martin Preisser, in St. Galler Tagblatt.


"... This book really goes deep into the theme of silence. It sheds light on the topic from various angles, making it a book that enriches and inspires contemplation. You can learn a lot from it, and use it in your day-to-day life. It is very informative, but it also provides entertainment by way of its many examples. The writing style is pleasantly fluid. A very informative book that is a pleasure to read..." - kunstundliteratur.
About the Author(s)
Theodor Itten lives as a freelance psychotherapist, psychologist and author in Sankt Gallen, Switzerland. He is the author of several books including Rage: Managing an Explosive Emotion, The New Politics of Experience and the Bitter Herbst with Ron Roberts and Francis Huxley.
You may also like