The Angel and the Assassin: The Tiny Brain Cell That Changed the Course of Medicine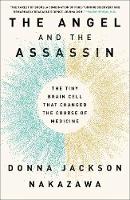 Book Details
Publisher : Random House USA Inc
Published : January 2021
Cover : Paperback
Pages : 320
Category :
Neuroscience
Category 2 :
Popular Psychology
Catalogue No : 96139
ISBN 13 : 9781524799199
ISBN 10 : 152479919X
Also by Donna Jackson Nakazawa
A thrilling story of scientific detective work and medical potential that illuminates the newly understood role of microglia, an elusive type of brain cell that is vitally relevant to our everyday lives. 
The rarest of books: a combination of page-turning discovery and remarkably readable science journalism, Mark Hyman, MD.
#1 New York Times bestselling author of: Food: What the Heck Should I Eat? Named one of the best books of the year by Wired.
Until recently, microglia were thought to be helpful but rather boring: housekeeper cells in the brain. But a recent groundbreaking discovery has revealed that they connect our physical and mental health in surprising ways. When triggered and anything that stirs up the immune system in the body can activate microglia, including chronic stressors, trauma, and viral infections, they can contribute to memory problems, anxiety, depression, and Alzheimers. Under the right circumstances, however, microglia can be coaxed back into being angelic healers, able to make brain repairs in ways that help alleviate symptoms and hold the promise to one day prevent disease.
With the compassion born of her own experience, award-winning journalist, Donna Jackson Nakazawa illuminates this newly understood science, following practitioners and patients on the front lines of treatments that help to reboot Microglia. In at least one case, she witnesses a stunning recovery and in others, significant relief from pressing symptoms, offering new hope to the tens of millions who suffer from mental, cognitive, and physical health issues.
Hailed as a riveting, stunning, and visionary, The Angel and the Assassin offers us a radically reconceived picture of human health and promises to change everything we thought we knew about how to heal ourselves.
You may also like