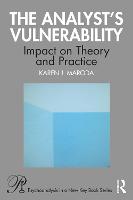 Book Details
Publisher : Routledge
Published : July 2021
Cover : Paperback
Category :
Psychoanalysis
Catalogue No : 95753
ISBN 13 : 9781032040837
ISBN 10 : 1032040831
Also by Karen J. Maroda
This book closely examines the analyst's early experiences and character traits, demonstrating the impact they have on theory building and technique. Arguing that choice of theory and interventions are unconsciously shaped by clinicians' early experiences, this book argues for greater self-awareness, self-acceptance, and open dialogue as a corrective.
Linking the analyst's early childhood experiences to ongoing vulnerabilities reflected in theory and practice, this book favors an approach that focuses on feedback and confrontation, as well as empathic understanding and acceptance. Essential to this task, and a thesis that runs through the book, are analysts' motivations for doing treatment and the gratifications they naturally seek. Maroda asserts that an enduring blind spot arises from clinicians' ongoing need to deny what they are personally seeking from the analytic process, including the need to rescue and be rescued. She equally seeks to remove the guilt and shame associated with these motivations, encouraging clinicians to embrace both their own humanity and their patients', rather than seeking to transcend them. Providing a new perspective on how analysts work, this book explores the topics of enactment, mirror neurons, and therapeutic action through the lens of the analyst's early experiences and resulting personality structure. Maroda confronts the analyst's tendencies to favor harmony over conflict, passivity over active interventions, and viewing the patient as an infant rather than an adult.
Exploring heretofore unexamined issues of the psychology of the analyst or therapist offers the opportunity to generate new theoretical and technical perspectives. As such, this book will be invaluable to experienced psychodynamic therapists and students and trainees alike, as well as teachers of theory and practice.
You may also like