Terror, Love and Brainwashing: Attachment in Cults and Totalitarian Systems: Second Edition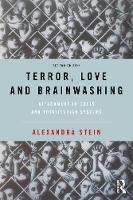 Book Details
Publisher : Routledge
Published : March 2021
Cover : Paperback
Pages : 286
Category :
Attachment Theory
Catalogue No : 95531
ISBN 13 : 9780367467715
ISBN 10 : 9780367467
Also by Alexandra Stein
This book explains how people can be radically manipulated by extreme groups and leaders to engage in incomprehensible and often dangerous acts through psychologically isolating situations of extreme social influence. These methods are used in totalitarian states, terrorist groups and cults, as well as in controlling personal relationships.
Illustrated with compelling stories from a range of cults and totalitarian systems, Stein's book defines and analyses the common identifiable traits that underlie these groups, emphasizing the importance of maintaining open yet supportive personal networks. Using original attachment theory-based research this book highlights the dangers of closed, isolating relationships and the closed belief systems that justify them, and demonstrates the psychological impact of these environments, ending with evidence-based recommendations to support an educational approach to awareness and prevention. Featuring a foreword by John Horgan, the new edition has been fully updated to include recent work on political extremism and radicalization and totalitarian systems, as well as the recent highly publicized NXIVM case.
Terror, Love and Brainwashing: Second edition is essential reading for professionals, policy makers, legal professionals, educators and cult survivors and their families themselves.
Reviews and Endorsements
'A truly remarkable book. Drawing on attachment theory and research, Stein provides penetrating insights into how and why cults-from Jonestown to ISIS gain such control over the minds and behavior of members. It is essential reading for all seeking to understand contemporary threats of "totalist" systems of all kinds.' - L. Alan Sroufe, Professor Emeritus, Institute of Child Development, University of Minnesota and as author of the award winning book, The Development of the Person.

'A brilliant and much-needed book, grounded in original research and the classic literature in the field, along with plentiful real-life stories to exemplify the main points. Stein informs readers how leaders dominate, how the mechanics of recruitment work, and how the manipulations of indoctrination succeed in creating blindly devoted followers. While indicating that we are all vulnerable, societal solutions are offered. Perfect for classes in sociology, social psychology, psychology, and political science. This book couldn't be more timely!' - Janja Lalich, Professor Emerita of Sociology and author of Bounded Choice: True Believers and Charismatic Cults.

'Alexandra Stein combines deep knowledge of cultic groups from Jehovah's Witnesses to ISIS with wide-ranging research and a rich trove of interviews. This wise and informed book will interest the specialist and the general reader.' - Charles B. Strozier, lead author and editor, The Fundamentalist Mindset and Apocalypse: On The Psychology of Fundamentalism in America.

"This is one of the best books that I have read about cults, and I have a read a few because, like the author, I used to be in one myself... [The book] will be, I believe, a major benefit for those thinking of leaving a cult and for those who, having managed to escape, need to sort out in their own minds what happened to them and what they need to do next." - James Cook, Journal of Mental Health.
About the Author(s)
Alexandra Stein is a social psychologist and visiting research fellow at London South Bank University (UK). She lectures and writes on cults and totalitarianism. As a young woman she was a member of a political cult, an experience she documented in her first book Inside Out.
You may also like