Team-Based Shared Formulation for Psychosis: The SAFE Approach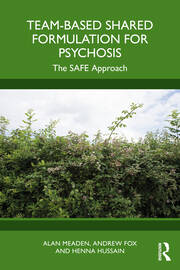 Book Details
Publisher : Routledge
Published : July 2022
Cover : Paperback
Pages : 236
Category :
Clinical Psychology
Catalogue No : 96654
ISBN 13 : 9780367536671
ISBN 10 : 9780367536
Also by Alan Meaden
Also by Andrew Fox
Adding to the growing literature on shared formulation, the authors provide over two decades of practice-based evidence for the use of a Shared Assessment, Formulation and Education (SAFE) approach to working with those with complex mental health and behavioural needs.
The SAFE approach offers an evidence-informed framework for multidisciplinary teams to address the needs of those with complex and enduring psychosis for whom current evidence-based interventions are ineffective in promoting their recovery. Drawing from richly detailed case studies, the authors provide a range of useful tools and fomulation templates for use by clinicans and professionals alike. They put forward a shared language to promote a multidisciplinary understanding of service users' complex needs and a means of organising treatment into a focused, realistic and targeted approach aimed at reducing barriers to recovery and allowing individuals to lead personally meaningful lives. The book focuses predominantly on the treatment of those with psychosis who require bespoke, multi-theory informed care.
This work will be an invaluable resource to professionals working with this client group, including clinical and counselling psychologists, psychiatrists and other allied health professionals.
Reviews and Endorsements
Improving the recovery and quality of life for people with psychosis is nearly always a team-based responsibility: whether in early intervention, assertive outreach, rehabilitation or generic mental health teams. I have always been struck by the differences between teams with the same function in their capacity to absorb and manage risk safely without jeopardising their fundamental mission to care, empower and promote recovery and well-being. I've never quite been able to put my finger on why teams differ in this way; perhaps leadership, structure, model fidelity, expectations etc., let alone how to work with a whole team to hit the sweet spot. Alan Meaden, Andrew Fox and Henna Hussain have dedicated over two decades' work to this task with spectacular results.

In this book they demonstrate with clarity and accessible case material their approach built on a team-based shared formulation, and how it can provide a solid foundation for interventions delivered by the whole team, such as relapse prevention, easing distress from the troubled internal world, through to social recovery. This is the key to the successful translation of evidence-based interventions through a team platform and is essential reading for all psychosis teams. I cannot recommend it highly enough. - Max Birchwood, Professor of Youth Mental Health at Warwick Medical School, University of Warwick.
About the Author(s)
Alan Meaden is a consultant clinical psychologist with over 25 years of experience working in designing and researching rehabilitation services.
Andrew Fox is a clinical psychologist working across inpatient recovery and rehabilitation services. He is also a lecturer in the Centre for Applied Psychology at the University of Birmingham.
Henna Hussain is a clinical psychologist currently working for Birmingham and Solihull Mental Health NHS Foundation Trust. Henna works in both a Community Mental Health Team and in Recovery and Rehabilitation inpatient services.
You may also like