Subconscious Acts, Anesthesias and Psychological Disaggregation in Psychological Automatism: Partial Automatism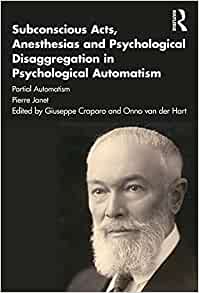 Book Details
Publisher : Routledge
Published : November 2021
Cover : Paperback
Pages : 192
Category :
Psychoanalysis
Catalogue No : 96039
ISBN 13 : 9781032056890
ISBN 10 : 1032056894
Also by Onno Van Der Hart
Also by Giuseppe Craparo
Also by Pierre Janet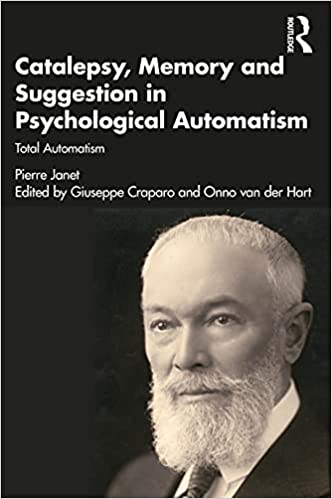 Pierre Janet's L'Automatisme Psychologique, originally published in 1889, is one of the earliest and most important books written on the study of trauma and dissociation. Here it is made available, in two volumes, in English for the first time, with a new preface by Giuseppe Craparo and Onno van der Hart.
The second volume, Subconscious Acts, Anesthesias, and Psychological Disaggregation in Psychological Automatism, covers four main topics. Beginning with an examination of subconscious acts, Janet first assesses partial catalepsies, subconscious acts, and posthypnotic suggestions, then proceeds to a consideration of anesthesias and simultaneous psychological existences. This is followed by discussion of several forms of psychological disaggregation, including spiritism, impulsive madness, hallucinations, and possessions. Finally, Janet considers elements of mental weakness and strength, from misery to judgement and will. Janet's work, with its many descriptions of dissociative actions and the dissociative personality, will help clinicians and researchers to develop insight in trauma-related dissociation, and to become more adapt at relating to their patients' dissociative actions.
This seminal work will be of great interest to researchers and students of psychoanalysis, philosophy, and modernism, as well as psychotherapists and psychoanalysts working with clients who have experienced trauma. It is accompanied by Catalepsy, Memory, and Suggestion in Psychological Automatism: Total Automatism.
About the Author(s)
Pierre Janet (1859–1947) is regarded as one of the most seminal researchers, clinicians, and thinkers of the last two centuries. His work spanned the fields of psychotherapy, psychology, and philosophy.
Giuseppe Craparo, PhD, is a psychoanalytically oriented psychotherapist practicing in Enna and Catania, Italy. He is Assistant Professor of Psychology at the Kore University of Enna. He is also a member of the ASP (Associazione di Studi Psicoanalitici), a Member Society of the International Federation of Psychoanalytic Societes.
More titles by Giuseppe Craparo
Onno van der Hart, PhD, is a psychologist, former psychotherapist, and Emeritus Professor at Utrecht University, the Netherlands.
You may also like