Stories and Analogies in Cognitive Behaviour Therapy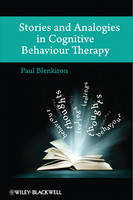 This is an accessible guide to employing stories and metaphors within cognitive behaviour therapy, which will aid clinicians in providing effective treatment for their clients. It provides therapists with a range of metaphors that can be employed as a tool to enable clients to gain a new perspective on their problem, and reinforce their clients motivation for change. CBT (Cognitive Behaviour Therapy) continues to grow in popularity, and is strongly recommended as an effective intervention by the National Institute of Clinical Excellence. This title is written in an engaging style that is accessible to both established practitioners and trainees in clinical psychology.
About the Author(s)
Paul Blenkiron is a Consultant Psychiatrist based at Bootham Park Hospital in York, UK, and is an accredited member of the British Association for Behavioural and Cognitive Psychotherapies. He is also Honorary Senior Lecturer in Psychiatry and Behavioural Sciences at Leeds University, and a CBT course facilitator at York University's Department of Health Sciences. He has authored more than 60 original research and clinical publications in the areas of CBT, depression, self harm and chronic fatigue.
You may also like