Somatic Maternal Healing: Psychodynamic and Somatic Trauma Treatment for Perinatal Mental Health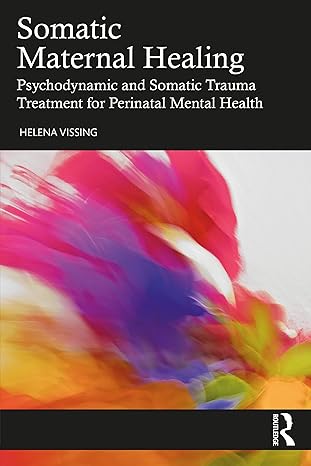 Book Details
Publisher : Routledge
Published : September 2023
Cover : Paperback
Pages : 264
Category :
Individual Psychotherapy
Category 2 :
Counselling
Catalogue No : 97484
ISBN 13 : 9781032315249
ISBN 10 : 1032315245
Somatic Maternal Healing introduces a cutting-edge understanding of the body into the growing field of perinatal mental health. Chapters lay out a complete trauma treatment model for maternal mental health, integrating psychodynamic and somatic clinical techniques within a systemic perspective. The book applies a biopsychosocial conceptualization of mental health in the perinatal period with a special emphasis on trauma and somatic trauma treatment.
Somatic Maternal Healing is for anyone working clinically with mothers and new families, specifically therapists, clinical social workers, psychologists, psychoanalysts, psychiatrists, researchers, academics, clinical educators, and graduate students and trainees within these fields.
Reviews and Endorsements
An important and hopeful contribution to understanding how clinicians can facilitate a woman's struggle to grow through the process of birthing and parenting. The psychological and corporeal challenges and possibilities make this required as well as illuminating reading."

Susie Orbach, PhD, author of Fat is a Feminist Issue and Bodies

In this brilliantly conceived and passionate book, Vissing brings a long overdue integration of analytic relational thinking with somatic psychology to bear on women's perinatal difficulties, offering a trenchant analysis of the barriers to the recognition of maternal suffering along with an inspiring account of essential clinical strategies for treatment. Truly vital reading for anyone concerned with the psychological and biosocial world of mothers and infants.

Jessica Benjamin, PhD, author of The Bonds of Love and Beyond Doer and Done To

Somatic Maternal Healing expertly presents a trauma-informed, research-based framework to better understand the transition to motherhood within the context of profound change, adaptation, and transformation. All therapists working in the field of maternal mental health should have access to these compelling and essential clinical interpretations and interventions.

Karen Kleiman, LCSW, author of The Art of Holding in Therapy
Table of Contents

Introduction: Why We Need Maternal Healing that Includes Self, Body, and Society

Part I: Introduction to Part 1: Overview of Trauma in the Perinatal Period
1. The Question of Embodied Maternal Subjectivity: How Feminist Psychoanalysis Informs Clinical Work with Mothers
2. Understanding Trauma in Light of the Biological Changes of Motherhood 3. Resisting Patriarchal Motherhood: From Maternal Bodylessness to Maternal Bodyfulness
4. Rationale and Principles of Somatic Maternal Healing

Part II: Introduction to Part II: Principles, Treatment Goals, and Key Clinical Skills of Maternal Somatic Healing
5. Working Somatically in the Perinatal Transferential Field
6. Maternal Bodyfulness: Working with Perinatal Sensory Awareness and Vocabulary
7. Expansion and Integration: Trauma Release During the Perinatal Period 8. Making Maternal Healing Whole with Clinical Creativity and Biopsychosocial Somatic Treatment Planning
About the Author(s)
Helena Vissing, PsyD, SEP, PMH-C, is a licensed psychologist and Somatic Experiencing® practitioner based in Northern California. She is certified in perinatal mental health and specializes in trauma treatment and psychodynamic psychotherapy.
You may also like