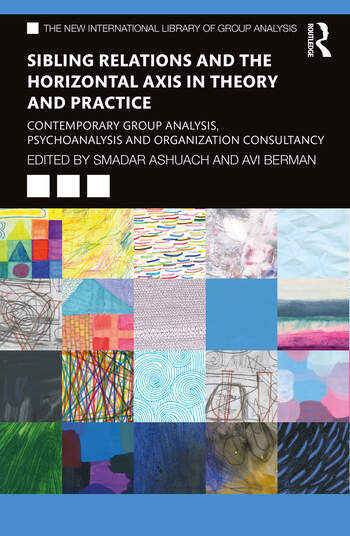 Book Details
Publisher : Routledge
Published : June 2022
Cover : Paperback
Pages : 296
Category :
Psychoanalysis
Category 2 :
Group Psychotherapy
Catalogue No : 96631
ISBN 13 : 9781032114781
ISBN 10 : 9781032114
This book explores the interpersonal world of sibling relationships, explaining how these relationships are central to the development of the psyche of the individual, of the group, of society and of the organisation.
Sibling Relations and the Horizontal Axis in Theory and Practice considers four key areas: sibling relations, sibling trauma, the law of the mother and the horizontal axis. The contributors journey through examples from the psychological, philosophical, organisational, social and cultural realms, giving a new perspective on the psychic world and the importance of sibling relationships as an empowering and therapeutic component for building relationships. While we are used to looking at the individual, the group and at society through the vertical, hierarchical relationship that results from parent–child relationships, this book discusses and reveals the impact of the horizontal axis.
Sibling Relations and the Horizontal Axis in Theory and Practice will be important reading for psychoanalysts, group analysts and psychoanalytic psychotherapists in practice and in training.
Reviews and Endorsements
"This rich and fascinating book deals with various aspects of the Law of the Mother and the growth that results from the Sibling Trauma. The book analyzes the Horizontal Axis as it appears in group analysis, in the Bible, in organizations, in literature and in cinema. Reading this book shows how much society has changed in the days of Foulkes and Antony. It is a refreshing and topical book, boldly researching the weaknesses of hierarchical structures and the strengthening of the structure of social networks." - Hanni Biran, Clinical Psychologist, Training Psychoanalyst and Group Analyst; Tel-Aviv Institute for Contemporary Psychoanalysis and Israeli Institute of Group Analysis.


"Ashuach and Berman together with their stellar contributors propose an entirely new vector for understanding group and individual process. Embellishing Juliet Mitchell's Law of the Mother and the centrality of sibling consciousness this book will irrevocably change accepted understandings of patients and clinical process. With examples that range from clinical work to the bible each chapter creates a new and unexpected perspective that collectively foment a deep realignment of clinical thinking and of subjectivity itself. No reader will listen to their patients or view an organization in quite the same way again." - Robert Grossmark, Ph.D, ABPP, Teaching Faculty and Clinical Consultant, New York University Postdoctoral Program in Psychoanalysis and Psychotherapy.
About the Editor(s)
Smadar Ashuach is a clinical psychologist, supervisor, training psychoanalyst and group analyst based in Israel.
Avi Berman is a clinical psychologist, psychoanalyst, training psychoanalyst and group analyst. He is the founder of the Israeli Institute of Group Analysis.
You may also like