Sex and Nothing: Bridges from Psychoanalysis to Philosophy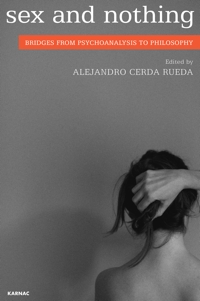 Book Details
Publisher : Routledge
Published : July 2016
Cover : Paperback
Pages : 240
Category :
Lacanian Psychoanalysis
Catalogue No : 37318
ISBN 13 : 9781782203384
ISBN 10 : 1782203389
From its etymological roots, sex is related to a scission, Latin for sectus, secare, meaning "to divide or cut." Therefore, regardless of the various studies applied to defining sex as inscribed by discursive acts, i.e. merely a 'performatively enacted signification,' there is something more to sex than just a social construction or an aprioristic substance. Sex is irreducible to meaning or knowledge.
This is why psychoanalysis cannot be formulated as an erotology nor a science of sex (scientia sexualis). Following this argumentation, in the final class of his eleventh seminar, Lacan asserts that psychoanalysis has proven to be uncreative in the realm of sexuality. Henceforth, sex does not engrave itself within the symbolic: only the failure of its inscription is marked in the symbolic. In this matter, sex escapes the symbolic restraints of language; however, it is through its failure that it manifests itself through the symbolic, e.g. symptoms or dream life. So, what is sex? Sex and Nothing embarks upon a dialogue between colleagues and friends interested in bridging psychoanalysis and philosophy, linking sex and thought, where what emerges is a greater awareness of the irreducucibility of sex to the discourse of knowledge and meaning: in other words, sex and nothing.
With contributions by Joan Copjec, Mladen Dolar, Sigi Jöttkandt, Cristina Soto van der Plas, Jelica Šumic, Samo Tomšic, Gabriel Tupinambá, Daniel Tutt, Slavoj Žižek, and Alenka Zupancic.
Reviews and Endorsements
'I was determined to hate this book, partly because I'm not in it, partly because I really don't like sex when it is followed by nothing. Yet now that I have read it, I think it is by far the most consistently brilliant collection of essays on psychoanalysis and philosophy I have come across in a very long time. I now understand why I'm not in it – the cast of characters, which includes some of the most sparkling intellectuals of our age and some equally coruscating emerging scholars, is just perfect – and I have also learnt to appreciate the importance of nothingness, and not just as a companion or a consequence of sex. This book belongs on all the bedside tables of all the better houses on the planet.'
--Professor Dany Nobus, Pro-Vice-Chancellor for External Affairs at Brunel University London, and Chair of the Freud Museum London
About the Editor(s)
Alejandro Cerda-Rueda is a practising psychoanalyst in Mexico City. He is Professor at Universidad Iberoamericana, Mexico, and senior editor for Paradiso Editores.
You may also like