Saving Freud: A Life in Vienna and an Escape to Freedom in London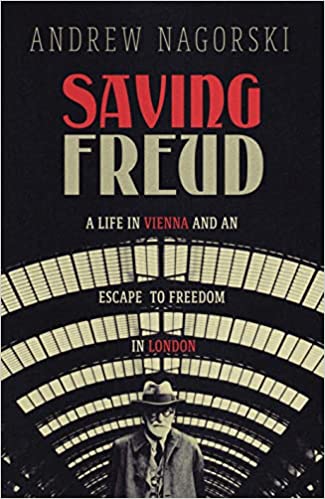 Book Details
Publisher : Icon Books
Published : August 2022
Cover : Hardback
Pages : 338
Category :
Psychoanalysis
Category 2 :
Memoir
Catalogue No : 96551
ISBN 13 : 9781785788765
ISBN 10 : 9781785788
Also by Andrew Nagorski
Hardback
£18.00
Usually despatched within 4-5 working days
Free UK Delivery over £25
This title has been delisted and is no longer available to purchase
March 1938: German soldiers are massing on the Austrian border, on the cusp of fulfilling Hitler's dream of absorbing the country in the Third Reich. Many Jews make frantic plans to flee to safety. But one of the most famous men in the world, unable to contemplate leaving his beloved Vienna, is not among them. His name is Sigmund Freud.
Saving Freud is the story of a great man's life, and of the extraordinary people who managed to prolong it, by convincing him to escape to London: the Welsh physician who brought psychoanalysis to Britain; Napoleon's great-grandniece; an American ambassador; Freud's devoted daughter, Anna; and the doctor who risked his own life by staying at Freud's side.
In examining the histories of both Freud and his closest circle, Andrew Nagorski brilliantly evokes the story of Europe in the first half of the Twentieth Century. This is a tale of a great city, a collapsing empire, a rising terror -and of a man who would change the way we think.
Reviews and Endorsements
Andrew Nagorski has written a gripping masterpiece about one of the greatest figures in history, whose insights about human beings as "savage beasts" could not be more timely - Professor Brett Kahr, Honorary Director of Research, Freud Museum London, and author of Freud's Pandemics

An intimate, touching portrait of a genius as an old man. Ill, myopic, in denial and terribly vulnerable, this Freud is more human than any I've encountered before. Andrew Nagorski has an artist's eye for revealing detail and a novelist's ability to bring to life a long lost world and its myriad denizens. - Sylvia Nasar, author of A Beautiful Mind

Sigmund Freud's vibrant life in Vienna and narrow escape from the Gestapo are recounted in this entertaining history... The result is an invigorating look at a lesser-known chapter of Freud's well-documented life. - Publisher Weekly

As exciting and suspenseful as a spy novel, Andrew Nagorski's masterful narrative reveals how an eclectic group of Sigmund Freud's friends, ranging from an American ambassador to a French-born princess, came together to do the seemingly impossible: engineer his rescue from Nazi-controlled Austria as the Gestapo were closing in. Their successful efforts underscore how powerful love, loyalty, and friendship can be, even in the midst of overwhelming evil - Lynne Olson, author of Madame Fourcade's Secret War

With his characteristic clarity and meticulous research, Nagorski has once again produced a masterful work. Saving Freud is a page-turner, mixing biography and escape narrative, with a powerful reminder that historians need to pay attention not just to words, but to relationships - Rebecca Erbelding, author of Rescue Board

Part engrossing biography of the father of psychoanalysis, part vivid group portrait of the circle of notables who rescued Sigmund Freud from the Nazis, Saving Freud ... captures the power of self-delusion and denial among even the most brilliant minds - Kati Marton, author of The Chancellor
About the Author(s)
Andrew Nagorski was born in Scotland to Polish parents, moved to the United States as an infant and has rarely stopped moving since, serving as Newsweek's bureau chief in Hong Kong, Moscow, Rome, Bonn, Warsaw, and Berlin. He is the author of seven previous critically acclaimed books, including Hitlerland and The Nazi Hunters. He now lives in St. Augustine, Florida, and continues to write for numerous publications.
You may also like