Safeguarding Children Living with Trauma and Family Violence: Evidence-Based Assessment, Analysis, and Planning Intervention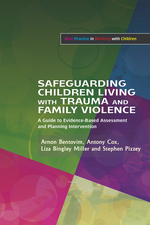 Also by Arnon Bentovim


Also by Liza Bingley Miller Offering a systematic approach to evidence-based assessment and planning for children living with trauma and family violence, this practical book shows how to assess and analyse the needs of the child, make specialist assessments where there are continuing safeguarding concerns (using the Assessment Framework) and plan effective child-centred and outcome-focused interventions.
The authors analyse the impact of exposure to a climate of trauma and family violence on a child's bioneurological development and on their capacity to form attachments and to develop and reflect on relationships through childhood and adolescence into adulthood. They bring together the assessment of children in need with the evaluation of significant harm and risk, and potential for rehabilitation, and also explore the application of evidence-based approaches to intervention.
This book is an essential tool for all front-line practitioners working with child protection, including social workers, child and adolescent mental health practitioners, police officers, probation workers and domestic violence organizations. It is also suitable for undergraduate, postgraduate and post-qualifying students.
About the Editor(s)
Arnon Bentovim is a Director of Child and Family Training, and a Visiting Professor at Royal Holloway, University of London. He was formerly a Honorary Consultant Child and Adolescent Psychiatrist to the Great Ormond Street Children's Hospital and the Tavistock Clinic. He was also Honorary Senior Lecturer at the Institute of Child Health, University College London.
Liza Bingley Miller is an independent social work consultant and National Training Coordinator of Child and Family Training, as well as being the Adoption Panel Chair for the North Yorkshire Children and Young People's Services.
More titles by Liza Bingley Miller
Antony Cox is Emeritus Professor of Child and Adolescent Psychiatry at Guy's, King's and St Thomas' School of Medicine, London.
Stephen Pizzey is an independent social worker.
You may also like