Rorschach Assessment of Senior Adults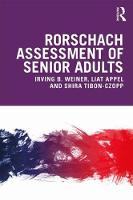 Book Details
Publisher : Routledge
Published : June 2019
Cover : Paperback
Pages : 224
Category :
Clinical Psychology
Catalogue No : 94464
ISBN 13 : 9780367243838
ISBN 10 : 9780367243
This guide is a much-needed reference for clinicians on how to use the Rorschach Inkblot Test with senior adults, an essential tool for assessing personality functioning to better identify psychological interventions. The book integrates historical developments, current research, conceptual considerations, and therapeutic and diagnostic applications.
Chapters review basic guidelines for the understanding and interpretation of Rorschach variables, including protocol validity; interpretation of structural variables, thematic imagery, and cross-cultural normative data; sequence analysis; and more. The authors then provide 10 case illustrations of how the Rorschach indices of cognitive functioning, emotional experience, interpersonal relatedness, and self-perception can facilitate differential diagnosis and treatment planning in clinical work with older people. These case illustrations are rooted in previously non-existent Rorschach reference data based on an international sample of more than 250 senior adults and a second sample of more than 200 patients with Alzheimer's disease.
Clinicians will come away with a solid empirical basis for distinguishing between normal-range personality functioning and manifestations of psychological disorder in the elderly and for providing beneficial interventions to senior adult patients.
You may also like