Risk Assessment in Forensic Practice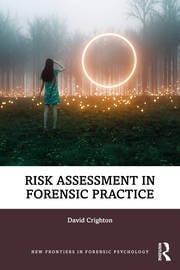 Book Details
Publisher : Routledge
Published : July 2022
Cover : Paperback
Pages : 202
Category :
Individual Psychotherapy
Category 2 :
Forensic
Catalogue No : 96646
ISBN 13 : 9780367622534
ISBN 10 : 9780367622
Risk Assessment in Forensic Practice sets out a concise critical review of the way in which risk is assessed in current forensic practice. Setting the area in its historical context, this text outlines current practice in an accessible and clear format and discusses major critiques as well as the ways in which current practice might be developed to improve public protection.
Providing an account of the main issues involved in risk and probability and the ways that these have been applied in practice, the book describes current forensic practice in relation to the dominant algorithmic and checklist-based methods. Critiques of these arising from social-legal, risk analysis and experimental psychology perspectives are summarised, and questions of the accuracy, fairness and lack of analysis are considered, along with the main challenges associated with making group and individual predictions of events. The text rejects the idea that clinical assessments of risk are generally ineffective and stresses the role of environmental context, training and expertise in improving practice. Through the author's work in the field, this text also offers insight into the ways in which current practice might be improved and calls for greater analysis and methodological rigour.
Risk Assessment in Forensic Practice appeals to a wide range of forensic practitioners including psychologists, psychiatrists, social workers, mental health nurses and lawyers. The text is also relevant to those involved in management and decision-making across forensic settings.
Reviews and Endorsements
"Risk Assessment in Forensic Practice is an astonishing accomplishment. David Crighton provides a trenchant and sweeping analysis of cutting-edge research on the prediction and management of violent behavior. Historically grounded and written in clear, jargon-free prose, this work is sure to have an immense and long-lasting impact on the field." - John Monahan, PhD, John S. Shannon Distinguished Professor of Law, Professor of Psychology, University of Virginia, USA.

"David Crighton has done the field a great service in writing this book. He provides an analysis of contemporary forensic practice that is both thoughtful and balanced and which invites the reader to engage with foundational knowledge about the history, meaning, and nature of risk. David then, rather gently it should be said, draws our attention to the problems that will inevitably surface if we continue to simply follow convention, before offering some concrete suggestions for strengthening and advancing practice. Whilst this is both an easy and engaging read, David challenges us all to do much better. Please take the time to read this important contribution!" - Professor Andrew Day, School of Social and Political Sciences, University of Melbourne, Australia.

"This book is an articulate and authoritative examination of risk assessment in forensic practice. An in-depth exploration of both current and historic issues in theory and practice that will be a catalyst for much needed discussion and reform. An invaluable and accessible resource for forensic psychologists and other scholars, front-line practitioners and policy makers." - Dr Roxanne Khan, Director of Honour Abuse Research Matrix (HARM), University of Central Lancashire, UK.
About the Author(s)
David Crighton is a Consultant Psychologist and Visiting Professor of Forensic Psychology at Durham University, UK. He was previously Acting Chief/Deputy Chief Psychologist at the Ministry of Justice, UK.
You may also like