Right of Passage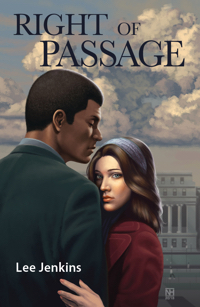 Book Details
Publisher : Sphinx
Published : July 2018
Cover : Paperback
Pages : 336
Category :
Fiction
Catalogue No : 40447
ISBN 13 : 9781912573028
ISBN 10 : 1912573024
Paperback
£13.49
Usually despatched within 4-5 working days
Free delivery worldwide
This title has been delisted and is no longer available to purchase
Our Customers Average Rating
Read all reviews (7)





Set in the heyday of the 1960s Civil Rights Movement and Vietnam War era, Right of Passage explores the social change and conflict involved in that period. The emotional development of Chris, a middle-class black man, is explored—being black in white society, conflicting cultural allegiances and the contradictions of his inner life. Chris meets Miriam, a white fellow academic, an irresistible mutual attraction complicated by fear and self-doubt, and the resistance of their families. Against a background of racial conflict, interwoven with day-to-day scenes of black middle-class life, this is a picture of the inexplicable and transforming power of love, and the irony, humor, and pain involved in measuring up to self-professed humane ideals.
About the Author(s)
Lee Jenkins is a psychoanalyst in private practice and a professor emeritus at John Jay College of Criminal Justice, CUNY. He received his PhD degree in English and Comparative Literature from Columbia University and his psychoanalytic training at the National Psychological Association for Psychoanalysis (NPAP). He is currently a supervisor and training analyst at NPAP and other psychoanalytic institutes. He has written on literature, psychology and race relations and is a published poet. Jenkins lives with his wife on Manhattan's Upper West Side.
Customer Reviews
Our customers have given this title an average rating of 5 out of 5 from 7 review(s), add your own review for this title.
Claire Lyon on 24/03/2019 17:38:31





(5 out of 5)
This is an unusual book, it centres around a mixed race
relationship and is a slow burn of a story. The end is a
wonderful and exciting cliff hanger and it's a thought
provoking tale read.
Jennifer Leighton on 24/03/2019 17:34:52





(5 out of 5)
I loved this book.

The narrative voice moves along in
such a loving and authentic way while including a
wide description of the civil rights era, where the
author is living.

The author has his own personal voice--nothing
boxed in. The author wants to be known as a human
being and wants to know others.

All around, my kind of book.
Charlotte Kahn on 24/03/2019 17:30:05





(5 out of 5)
This book is quite a gift to readers at this time. Although not absent from the text, the major focus is not on political divisiveness, poverty, racial hatred or crime. This novel is about the coming of age in an educated, middle class, African-American family.
Written in the first person, the intelligent and musically gifted young boy tells
the story of his family life, his wondrous natural surroundings, his obstacles and the
diplomacy and courage with which he handles them, the opportunities he is given and
those he has created for himself--to emerge, finally, as a professor in New York City
with his own family (the details of which I shall let the reader discover).
On the way, we learn about his natural adolescent sexual explorations, meet his
friends, as well as his professorial colleagues at a small southern college with
primarily African-American students. Their dialogues, their opinions and debates,
reveal their characters as well as the diversity of their backgrounds. Throughout,
the author lets the reader know the breath of his knowledge in various scientific and
artistic fields outside his own specialty, notably his penetrating ethical reflections.
For any young person, this book can be an inspiration and a hope. For this reader
it was a pleasure and provided a more intimate view of communities about whose trials
and achievements I was insufficiently informed.
Gila Lipton on 24/03/2019 17:17:09





(5 out of 5)
This book is a page-turner! Flowing words address serious past and present civil rights/racial issues within a compelling story. As soon as I finished the book I had to begin again to revisit endearing passages and to make sure I didn't miss anything.

Read this book!
Merle Molofsky on 24/03/2019 17:10:33





(5 out of 5)
A nimble storyteller, characterizations that are rich, believable and alive.
His themes unfold with easy access, leading the reader to speculation,
recognition, wonder: race, racism, ethnicity; the pleasure and pain of love
and friendship, bonding and conflicted family ties, veering away,
reconnecting through literature, music, empathic concern.

There's the terrific play on words of the title--experiencing
the right to the rites of passage: getting an education; earning
a meaningful living; falling in love; undertaking the right way
to negotiate these things and conduct one's life.
Henry Grinberg and Suzanne Noguere on 24/03/2019 17:00:30





(5 out of 5)
Sweetness, Heartbreak, and Triumph

"Right of Passage" is a very poignant work probing so many issues that we hold vital to
comprehending our American world and the struggles that continue to shape it. This gripping narrative contains rich, absorbing characters and deals with heart-pounding tensions, the most tender emotions, and real-life challenges.
Gerald J. Gargiulo on 24/03/2019 16:56:53





(5 out of 5)
An Engaging Novel

This is a story of a young man--Chris--a very likable, southern-born black man. The reader
journeys with Chris in his growth as a teacher, as a lover of classical music as well as his finding
the love of his life with a white female colleague.

The novel weaves their mutual growth amidst the cultural background of the sixties. Along the way Jenkins gives the reader a perceptive and sensitive portrait of black middle class Southern life. Jenkins' style is engaging, carries the reader along effortlessly and has passages of lyrical beauty. The reader will enjoy meeting these characters; they will enrich your life.

You may also like