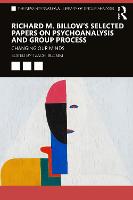 Book Details
Publisher : Routledge
Published : May 2021
Cover : Paperback
Pages : 274
Category :
Group Psychotherapy
Catalogue No : 95623
ISBN 13 : 9780367743369
ISBN 10 : 9780367743
This comprehensive volume presents Richard M. Billow's unique contributions to the theory and technique of psychotherapy, along with summaries and explications by the volume's editor, Tzachi Slonim.
Through their behavior, therapists define the clinical culture: how relationships are to be regarded and the depth to which narratives and exchanges may be considered. Known for his integration of Bion's metapsychology with contemporary psychoanalysis, Billow extends our understanding of "relational" to include the emotional relationships people have with individual and collective ideas, and the behaviors attached to these ideas. "Doing our work" (the title of the last section) involves the therapist's whole being, including cognitions, dreams, words, deeds, and very presence-mental and somatic. Drawing on Lacan, Billow suggests that therapeutic work ought to include a willingness to penetrate other minds with provocative, controversial ideas. His clinical vignettes portray a masterly clinician-in-action, describing his evolving feelings, thoughts, and assessments.
Billow's intimate knowledge of Bionian theory, coupled with his down-to-earth demeanour and clear writing, allows him to explicate and expand upon Bion's important contributions in a manner accessible to the novice and expert therapist alike. With one eye on therapeutic process, and the other on each participant including the therapist himself, Billow invites each of us to change our minds
About the Editor(s)
Tzachi Slonim, PhD, studied philosophy in the critical rationalist tradition before becoming a clinical psychologist. He maintains a private practice in New York City and is an adjunct professor at the Doctoral Programs in Clinical Psychology at the City University of New York and Pace University and at the Postdoctoral Program in Group Psychotherapy at Adelphi University. Richard M. Billow, PhD, is a clinical psychologist and holds postdoctoral certificates in psychoanalysis and group psychotherapy. For many years he directed the Postgraduate Group Program at the Derner Institute, Adelphi University. He is a frequent contributor to psychoanalytic and group literature, and the author of Relational Group Psychotherapy: From Basic Assumptions to Passion, Resistance, Rebellion and Refusal: The 3 Rs, and Developing Nuclear Ideas. He is a clinical professor in the Postdoctoral Program in Psychoanalysis and Psychotherapy at Adelphi, and practices in Great Neck, New York.
You may also like