Resurgence of Global Populism: A Psychoanalytic Study of Projective Identification, Blame-Shifting and the Corruption of Democracy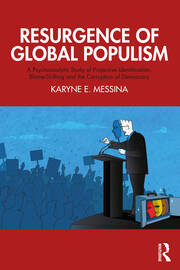 Also by Karyne E. Messina
Resurgence of Global Populism provides a psychoanalytic perspective to the global implications of the populist movement in the U.S. and its relationship to other parts of the world, particularly focusing on the presidency and legacy of Donald Trump.
The book explores Trump's use of psychological form of manipulation known as projective identification and how his use of this defense mechanism has influenced global institutions, political discourse, and quality of life in the long term. Messina explores the correlation between Trump's rhetoric and an increase in reported racism and prejudiced violence worldwide, disintegration of global values, and a radicalized political climate. She analyzes the dynamics between Trump and his supporters, political opponents, and successors, considers the COVID-19 pandemic as a study of Trump's views of the world, and considers the roles of social and television media. The book concludes with an explanation of antidotes to projective identification, including thoughtful debate and meaningful discussions and scripted dialogues for global healing.
This insightful book will be of interest to psychoanalysts and psychotherapists, academics and students of political psychology and political movements, and readers interested in a deeper analysis of populism and political dynamics.
Reviews and Endorsements
"Karyne Messina has her psychoanalytic hand on the pulse of growing authoritarianism throughout the world. This book takes us on a guided world tour of corrosive trends from the United States to South America, Europe, the Middle East and Oceania to analyze the causes and effects of populist and authoritarian governments. What sets this book apart is her sure-handed use of a psychoanalytic lens to examine the developmental causes of threats to democracy and good governance, the invasive effects of social media, and the erosion of good governance worldwide. Students of international relations and all who care about the health of our planet will benefit from sharing her examination." - David Scharff, MD; Winner of the 2021 Sigourney Award in Psychoanalysis; Co-Founder, The International Psychotherapy Institute.

"This important book cogently applies psychoanalytic thinking to a host of serious dangers that threaten democracy and even our very survival in the United States and in the rest of the globe. Starting with Donald Trump's unscrupulous rise to power and deeply damaging presidency, Messina studies the regressive dynamics of his supporters. She then broadens her discussion to include 15 additional countries being weakened by authoritarian leaders. Messina is a role model for psychoanalysts who want to apply their understanding of individual and group dynamics beyond the consulting room." - Richard M. Waugaman, M.D., Clinical Professor of Psychiatry, Georgetown University School of Medicine, USA.

"In the fascinating Resurgence of Global Populism, Messina helps us understand the workings of the Populist-Authoritarian powermongers and how they con us and end up destroying everything in their path. This book is important and should be required reading in schools as a safeguard of true democracy." - Robert M. Gordon, Ph.D. ABPP, Forensic Psychologist.

"Karyne E. Messina takes us on a global tour to explore how the fragile state of democracy has enabled the rise of authoritarian populist leaders - from Trump to Modi to Bolsonaro - who see themselves as heroes amidst a world of villains. Messina describes how the vitriolic blame game that these leaders employ is leading to immense human suffering and environmental damage. This important book stands as a stark warning that the mental health of elected leaders is a vital issue that impacts us all." - Ian Hughes, author,
About the Author(s)
Karyne E. Messina, EdD, is a licensed psychologist and psychoanalyst at the Washington Baltimore Center for Psychoanalysis and serves on the medical staff of Suburban Hospital in Bethesda, Maryland. She maintains a full-time private practice in Chevy Chase and Rockville, Maryland.
You may also like