Relationships in Recovery: Repairing Damage and Building Healthy Connections While Overcoming Addiction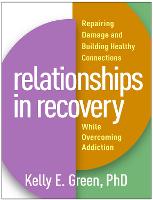 One of the most devastating aspects of addiction is the damage it causes to relationships--with intimate partners, family, friends, or colleagues. But recovery programs often recommend that you focus solely on sobriety and don't emphasize the need to rebuild relationships. Psychologist and addictions expert Kelly Green wants to change that.
Through her work with hundreds of clients, Dr. Green has learned that social support is key to the recovery process. This compassionate, judgment-free guide shares powerful tools you can use to recognize the differences between healthy and unhealthy relationships, set and maintain boundaries, reestablish emotional intimacy, communicate your feelings and needs, and end harmful relationships respectfully.
With inspiring stories and easy-to-use worksheets (you can download and print additional copies as needed), this book lights the way to a life untethered from addiction--and filled with positive connections
Reviews and Endorsements
"One of the most important parts of recovery is reconnecting with other people. Drawing on many years of experience, Dr. Green helps you explore your emotions and assumptions about relationships, build healthy connections, and break free of toxic ones. The book is filled with sensitive and insightful exercises, information, and strategies. Everyone in recovery should take this workbook along on the journey!" - Carlo C. DiClemente, PhD, ABPP, coauthor of Changing for Good.

"This excellent workbook provides evidence-based tools and tips to help you recover relationships as part of your recovery journey. What I love most about this book is the flexibility to pursue a range of different goals and the challenging of many myths about addiction and the recovery process. Dr. Green's compassionate and caring approach is likely to help many people who are seeking to change." - Katie Witkiewitz, PhD, Regents' Professor of Psychology, University of New Mexico.


About the Author(s)
Kelly E. Green, PhD, a clinical psychologist, is Associate Professor of Psychology at St. Edward's University in Austin, Texas, where she has received awards for research and teaching excellence. Dr. Green is a recognized expert in evidence-based addiction treatment. She maintains a private practice with a particular focus on helping clients and their loved ones improve their relationships in the context of addiction recovery.
You may also like