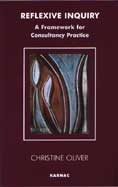 Book Details
Publisher : Routledge
Published : 2005
Cover : Paperback
Pages : 148
Category :
Organisational Psychology
Catalogue No : 21945
ISBN 13 : 9781855753587
ISBN 10 : 1855753588
The impetus for this book came from an appreciation that reflexivity, for both consultant and client, is the core ingredient for facilitating the "changing organization". Central to this belief, Reflexive Inquiry draws on the spirit of five overlapping theoretical traditions - systemic, social constructionist, critical, appreciative and complexity. These principles each offer a contribution to the management of reflexive consciousness and are used to shape consultancy practice.
Part of the Systemic Thinking and Practice Series.
Reviews and Endorsements
'Chris Oliver's book, Reflexive Inquiry: A Framework for Consultancy Practice, offers a way for us, as organisational members and consultants, to handle the tensions of a life immersed in organisational relations, structures, rules, policies, and procedures. This book provides us with an array of practices we might use with client systems seeking development while avoiding the urge to prescribe a new method for consultancy. Oliver has struck a chord identifying reflexive inquiry as the centrepiece of our work. When we invite our clients (as well as ourselves) into the sort of relational examination that reflexive inquiry spawns, we give full attention to the communication practices that create our identities, our organizations, and our lives. I am sure this volume will be rich with resources for us all.'
- Sheila McNamee, Professor of Communication, University of New Hampshire, USA

'All of us who are working with systemic, communication, and constructionist ideas will welcome the publication of [this book]. My term of-choice for the framework presented here is "maturity." It brings together several strands of work (appreciative inquiry, systemic practice, CMM), productively extending them in a practice centred on reflexivity.

'Perhaps the most impressive aspect of this book is that it both extends the work of the community of practice in which it is located and is accessible to those not already involved in it. Readers new to this community of practice will find a high ratio of new information and ideas, but the information is presented in an engaging manner with sufficient illustrations from actual cases to enable comprehension and adoption of new ways of working.'
- W. Barnett Pearce (Ph.D., Ohio University, 1969); Professor, Human and Organization Development Program, Fielding Graduate Institute
About the Author(s)
Christine Oliver has an MSc in Social Policy from the LSE and works as an organisational consultant, systemic psychotherapist, and teacher and trainer in psychotherapy and organizational studies at KCC Foundation and at Queen Mary College, London. She is the author/co-author of a number of journal papers and book chapters.
You may also like