Book Details
Publisher : Karnac Books
Published : 2001
Cover : Paperback
Pages : 128
Category :
Organisational Psychology
Catalogue No : 13844
ISBN 13 : 9781855752481
ISBN 10 : 1855752484
Also by Lesley Day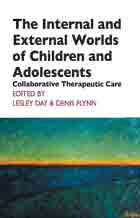 Therapeutic practice needs constant examination to ensure that it remains responsive and dynamic. Living organisms must communicate with their environment if they are to survive, and institutions are no different. This monograph, the second of the Cassell Hospital series, explores this concept further. By reading it, ideas and thinking will be sparked off that will help other organisations promote their own culture of enquiry.
- Kevin Healy, Director of the Cassel Hospital, from his Foreword
The contemporary Cassel Hospital was developed by Tom Main to create a self-exploratory institution. Main argued that, in order for the hospital to be therapeutic, it needs a "culture of enquiry". The individual and the institution might be seduced into ritualised working practices that no longer serve the needs of patients or staff. It is these "lapses from the continual enquiry" that are considered by this collection. It describes the mostly unconscious manoeuvres that inhibit reflection, and how the inappropriate use of psychoanalytic ideas can close off enquiry within a therapeutic community.
Contributors:
David Bell; Peter Grffiths; R.D. Hinshelwood; Tom Main; Agata Pisula; Pam Pringle; and Wilhelm Skogstad.
About the Editor(s)
Lesley Day, BA, MSc (Econ), MSc (Psychotherapy), Dip Integ Psychotherapy, Dip Psy Couns, was head of the Training and Consultancy Department at the Cassel Hospital and an Adult Psychotherapist in the Outpatient Service and in private practice. Prior to joining Cassel, she was the Senior Lecturer in Social Science at Brunel University. She has published in the fields of policy, social work and psychotherapy, and is co-editor of Women, Oppression and Social Work: Issues in Anti-Discriminatory Practice.
Pam Pringle, MSc Interprofessional Health and Welfare Studies, BA (Hons), RGN, RMN, Cassel Cert, has been working as the Outreach/Research Nurse at the Cassel Hospital. She has been developing a model of psychoanalytic practice for patients in the community. She also held a Clinical Nurse Specialist post at Cassel.
You may also like